Consultancies
SinnerSchrader — creating radical relationships. Web design London | webfire is a web agency based in Shoreditch, London. "webfire did a superb job on The Don Tapscott app.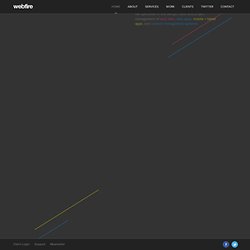 We were breaking new ground with this project and webfire had the creativity, design and technical skills to produce a fabulous product!" Don Tapscott, The Tapscott Group "It was a pleasure to work with webfire on the launch of the Leadership Doctor app as they took the stress out of the process with their enthusiasm, creativity and professionalism." Dominic Turnbull, Merlin Navigator. About Us. Monitor helps organizations grow.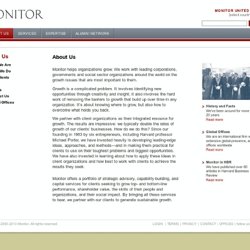 We work with leading corporations, governments and social sector organizations around the world on the growth issues that are most important to them. Growth is a complicated problem. It involves identifying new opportunities through creativity and insight; it also involves the hard work of removing the barriers to growth that build up over time in any organization. It's about knowing where to grow, but also how to overcome what holds you back. We partner with client organizations as their integrated resource for growth. CRM Consulting | CRM Strategy | Peppers & Rogers Group. Peppers & Rogers Group is a management consulting firm, recognized as the world's leading authority and acknowledged thought leader on customer-based strategies and underlying business initiatives.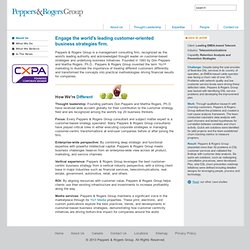 Founded in 1993 by Don Peppers and Martha Rogers, Ph.D., Peppers & Rogers Group invented the term 1to1® marketing to illustrate the importance of treating different customers differently, and transformed the concepts into practical methodologies driving financial results for companies. How We're Different Thought leadership: Founding partners Don Peppers and Martha Rogers, Ph.D. have received wide acclaim globally for their contribution to the customer strategy field and are recognized among the world's top 20 business thinkers.
Home | Clear. PB Creative. About Us | Global Brand Valuations - Intangible Assets, Analytics, Strategy & Transactions. About us Brand Finance Plc is the world's leading brand valuation consultancy.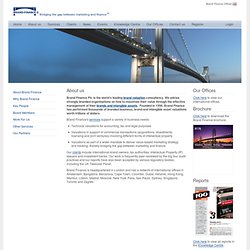 We advise strongly branded organisations on how to maximise their value through the effective management of their brands and intangible assets. Founded in 1996, Brand Finance has performed thousands of branded business, brand and intangible asset valuations worth trillions of dollars. Brand Finance's services support a variety of business needs: Technical valuations for accounting, tax and legal purposesValuations in support of commercial transactions (acquisitions, divestments, licensing and joint ventures) involving different forms of intellectual propertyValuations as part of a wider mandate to deliver value-based marketing strategy and tracking, thereby bridging the gap between marketing and finance.
The Leading Independent Brand Valuation Consultancy | Brand Finance. The Futures Company. Home. VP Group. Home » FutureBrand. Home - Circus. Big Green Door. Elephants Can't Jump exists to build winning brands. PROMISE. DRAGON ROUGE. DDSB. The office of David Davies and Stuart Baron. DESIGN BRIDGE. A Design and Innovation Consulting Firm. Trillium - shaping brands for tomorrow. SEYMOURPOWELL. IRIS. LANDOR. THE BRAND UNION. ARNOLD KLP. BLUE MARLIN. INTERBRAND. NHE.CO.UK - Nick House Entertainment. Wolff Olins. The Foundation. Bloom Partners - Management Consulting.
Home. HackFwd.
---