Java
Asteroid Discovery From 1980 - 2010
fscklog - Mac + iPhone + iPad + iPod - Tales of Interest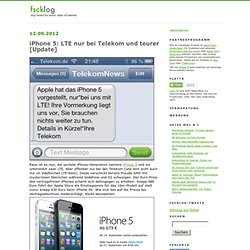 iPhone 5: LTE nur bei Telekom und teurer [Update] Raus ist es nun, die sechste iPhone-Generation namens iPhone 5 und sie unterstützt zwar LTE, aber offenbar nur bei der Telekom (und dort wohl auch nur im städtischen LTE-Netz). Diese verschickt bereits Freude-SMS mit mysteriösen Sternchen während Vodafone und O2 schweigen.
<buildPlugin> | Ant4Eclipse
Scope: PDE Projects This macro builds an eclipse plug-in project. It reads the information from the MANIFEST and the build.properties file and builds the plugin according to these settings.