Self-development
Live Happier: Ten Things to Stop Doing Right Now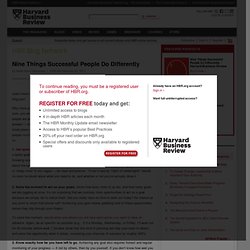 Learn more about the science of success with Heidi Grant Halvorson's HBR Single, based on this blog post. Why have you been so successful in reaching some of your goals, but not others?
Benjamin Franklin made sure to end every day by asking "What good have I done today?" Maya Angelou only wrote in tiny hotel rooms. Jack Kerouac made sure to touch the ground nine times before writing.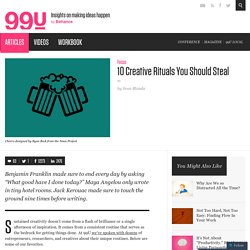 What to Do When You Fall Back Into Your Old, Less Productive Ways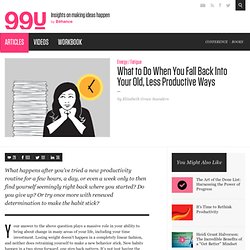 What happens after you've tried a new productivity routine for a few hours, a day, or even a week only to then find yourself seemingly right back where you started? Do you give up? Or try once more with renewed determination to make the habit stick?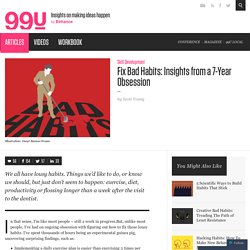 Fix Bad Habits: Insights from a 7-Year Obsession
We all have lousy habits. Things we'd like to do, or know we should, but just don't seem to happen: exercise, diet, productivity or flossing longer than a week after the visit to the dentist.
Hacking Habits: How To Make New Behaviors Last For Good
In the workplace and in life, we are little more than the sum of our habits.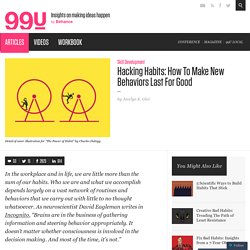 "The Ostrich Problem" and The Danger of Not Tracking Your Progress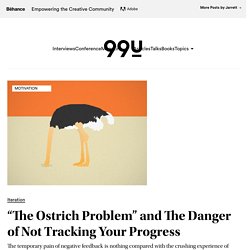 Say you're working on a new book. Or undertaking a new exercise routine. Perhaps you haven't been keeping tabs on how many words you've written, or weight lost.
New Habit? Set a Schedule, Not a Deadline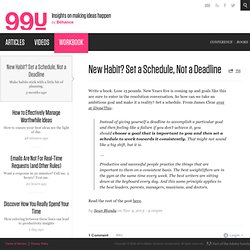 Designed by Dave Tappy for the Noun Project Productivity blogs and self-help books everywhere have given us the classic trope of a beaten-down-worker quitting their job in a blaze of glory and living happily after — but real life is much more complicated than that.
5 Scientific Ways to Build Habits That Stick
"We are what we repeatedly do. Excellence then, is not an act, but a habit."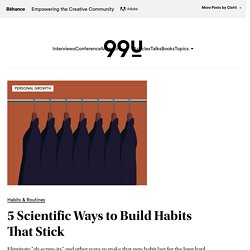 5 Scientific Ways to Build Habits That Stick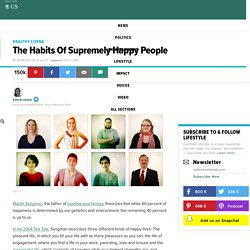 Martin Seligman, the father of positive psychology, theorizes that while 60 percent of happiness is determined by our genetics and environment, the remaining 40 percent is up to us.
Eat That Frog - Brian_Tracy_Eat_That_Frog.pdf
5 Leadership Behaviors Loyal Employees Trust
Most of us work long hours: 40, 50 or even 60 hours each week.
5 Morning Rituals to Keep You Productive All Day Long
How to be good at anything
Good Work vs. Great Work (And How to Tell Which is Which)
That's what we stand for here.
"Good girls go to heaven, bad girls go wherever they want."
How to feel empowered