Cewing
Chandra
Flutter Sidewalk Surfers for Women | Sanuk
New Media Publishing / Photography: Flat Art Studios.com / Stylist: Abigail Donnelly
Pasta with Cherry Tomatoes and Almond Pesto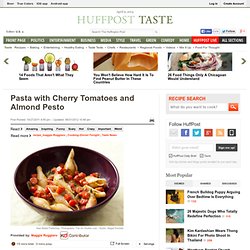 Alpha Closets > Laundry
HOW TOs | Page 2
The Five Hotel – Experience Boutique Hotel Paris- OFFICIAL SITE
The LAB is an experimental laboratory dedicated to RED MAGIC, the magic of passion, seduction and love.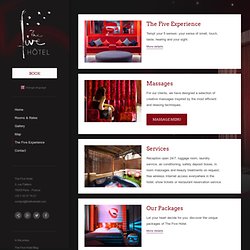 Design and Boutique Rooms
Located in the heart of the Latin Quarter, the **** Seven Hotel is a real boutique hotel. Whatever your preferences, you can be sure that you will fall in love with one of the 7 hotel suites will make. Whether it is the Sublime suite or the Lovez-vous suite, each offers an original and elegant setting, and is equipped with everything that you need.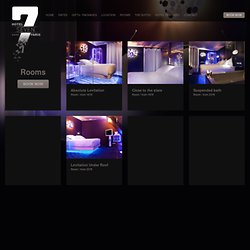 BOUTIQUE HOTEL in Paris ! SEVEN HOTEL ****, Official Site !
Design Hotel Paris Design Hotel Paris Trocadero Room | Hôtel Secret de Paris | Design Hotel
Hôtel Design Paris France | Hôtel Secret de Paris | Site Officiel
DualMate Plus lV - Sewing & Craft Club
DIY Christmas Stockings: a Sewing Tutorial |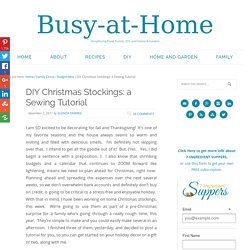 I am SO excited to be decorating for fall and Thanksgiving!
Hey everyone! I made myself a pretty fascinator hat today for my Steampunk outfit on Friday. I thought you might be interested in how I did it, so here is my How To for you :) I will wear my hair up and wear the hat to the side.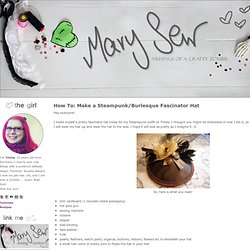 MarySew » How To: Make a Steampunk/Burlesque Fascinator Hat
MAKE | Strung Sewing Button Sculpture
More Fabric Flowers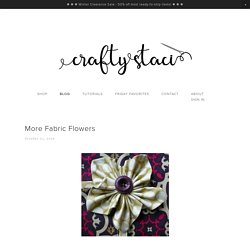 I love the look of the Forever Fabric Flowers I made a few months ago.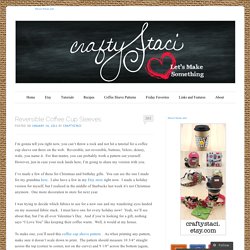 I'm gonna tell you right now, you can't throw a rock and not hit a tutorial for a coffee cup sleeve out there on the web.
I promised you this free downloadable bag pattern when we offered up the Simplicity Bias Tape Maker Giveaway as a great first project for your Homemade Bias Tape, so here goes…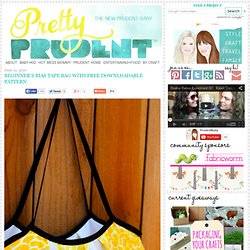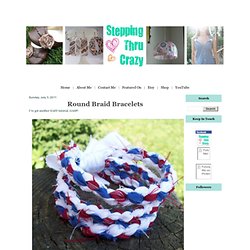 Stepping Thru Crazy: Round Braid Bracelets
I've got another EASY tutorial.
At the book launch party, there was a table devoted to crafting with felt.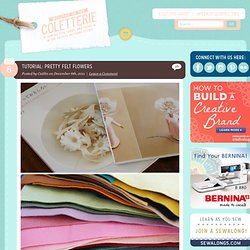 Pretty Felt Flowers
A few years ago, when the hubby and I lived in Florida (this was pre-kids, so make that 5-ish years...) I bought him a button-up shirt for his work.
Fashion, Sewing Patterns, Inspiration, Community, and Learning | BurdaStyle.com
Loki got a new bed today and the weather held out for photos, so you all get a new tutorial! Read below to learn how to make this cute fluffy fleece dog bed! I've made… four of these now? At least four.
**UPDATE 10/31/12 – Welcome to all the new visitors finding their way here from some of the holiday tutorial roundups! When you are making this, please keep in mind that if you or your intended gift recipient has an iPhone 5, this sleeve won't fit. The iPhone 5 is .37″ taller than the iPhone 4/4s. Adding .75″ to the total length of the fabric piece that you cut out should compensate nicely.
Easy iPhone Sleeve Tutorial | Dog Under My Desk
Anthro Trimmed Necklace Knockoff
Have you entered the Black Friday Giveaways??
Drafting a Princess Line Dress Pattern from the Basic Bodice Block
Taste-Test Recipe Binder
Adjustable Button Necklace « Trash to Treasure - tutorials | Craftwerk.ee
unnamed pearl
braided headbands
Felt Poppy tutorial and pattern
Bear: Tutorial and Pattern
Joyful braided bracelet tutorial