Dance
So You Think You Can Dance (season 7)
is a United States television reality program and dance competition airing on the Fox Broadcasting Company network. Season seven premiered on May 27, 2010. In the August 12 finale, contemporary dancer Lauren Froderman was named "America's Favorite Dancer" and received the grand prize of $250,000, as well as an appearance on the cover of magazine and in print advertising for Gatorade . [ 1 ] Contemporary dancers Kent Boyd and Robert Roldan were named runner-up and third place finisher, respectively.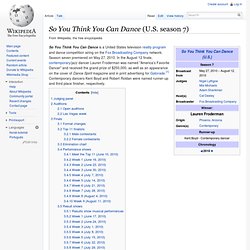 Broadcasting Company : So You Think You Can Dance : Super Fan Experience
So You Think You Can Dance - Dance Dictionary
SYTYCD Season 7 Premiere Episode Music | Pure So You Think You Can Dance
Tonight, I need y'all's help. I'll probably be running late from work and the audition episodes are always hard. So, if you're a human jukebox like Marianya or have a Midomi or are just a know-it-all, feel free to chime in in the comments. I'll flesh out the music list from your comments and my own finds, so keep checking back!!!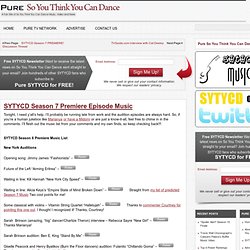 CF Dance Academy - Learn Ballet, Hip-Hop, Tap, Modern and More