Crowdfunding
FABrique d'Artistes.com - devenez producteur et agent d'artistes plasticiens contemporains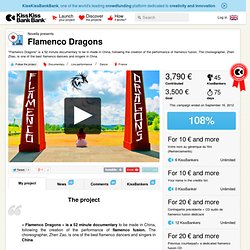 « Flamenco Dragons » is a 52 minute documentary to be made in China, following the creation of the performance of flamenco fusion.
KissKissBank - Novella présente Flamenco Dragons
Un article de Ékopédia, l'encyclopédie pratique. Le Crowdfunding[1] est une approche permettant le financement de projets en faisant appel à un grand nombre de personnes ordinaires (internautes, réseaux de contact, amis, etc.) pour faire de petits investissements.