Photo
HOP - Compagnie aérienne, vols en régions et en Europe. New York Times Photojournalism - Photography, Video and Visual Journalism Archives - Lens Blog. Pictory Blog. LightBox - From the photo editors of TIME. 500 Photographers. ASX | AMERICAN SUBURB X | Photography & Culture.
In Focus. The 26th annual National Geographic Traveler Photo Contest is under way, and entries will be accepted for another six weeks, until June 30, 2014.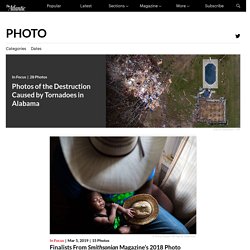 First prize winner will receive an 8-day Alaskan expedition for two. National Geographic was once more kind enough to allow me to share some of the early entries with you here, gathered from four categories: Travel Portraits, Outdoor Scenes, Sense of Place, and Spontaneous Moments. Photos and captions by the photographers. [30 photos] Choose: Mirror Wave.
---