Development
Vedic Mathematics Academy Vedic Maths is based on sixteen sutras or principles. These principles are general in nature and can be applied in many ways. These tutorials give examples of simple applications of the sutras, to give a feel for how the Vedic Maths system works. They are based on the work of Kenneth Williams and are a work in progress.
Vedic Maths Tutorial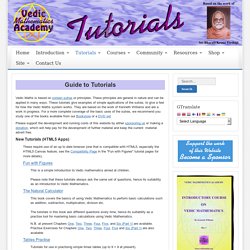 top50_winners
Company - About
Founder and President Tony Buzan is the inventor of the now world-renowned Mind Map, and is well-known as an educational consultant, speaker and prolific author. His invention of Mind Mapping in the late 1960s was born out of frustration with traditional note taking revision techniques. He has since developed the Mind Map technique through books, TV appearances and his work as a highly-regarded speaker.
Chuck Gallozzi lived, studied, and worked in Japan for 15 years, immersing himself in the wisdom of the Far East and graduating with B.A. and M.A. degrees in Asian Studies. He is a Certified NLP Practitioner, speaker, seminar leader, and coach. Corporations, church groups, teachers, counsellors, and caregivers use his more than 400 articles as a resource to help others. Among his diverse accomplishments, he is also the Grand Prix Winner of a Ricoh International Photo Competition, the Canadian National Champion of a Toastmasters International Humorous Speech Contest, and the Founder and Head of the Positive Thinkers Group that has been meeting at St. Michael's Hospital, Toronto since 1999.
Chuck Gallozzi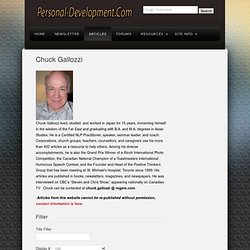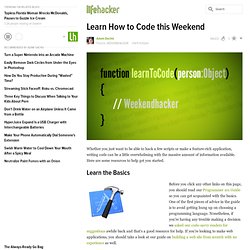 Whether you just want to be able to hack a few scripts or make a feature-rich application, writing code can be a little overwhelming with the massive amount of information available. Here are some resources to help get you started. Learn the Basics Before you click any other links on this page, you should read our Programmer 101 Guide so you can get acquainted with the basics. One of the first pieces of advice in the guide is to avoid getting hung up on choosing a programming language. Nonetheless, if you're having any trouble making a decision we asked our code-savvy readers for suggestions awhile back and that's a good resource for help.