Twitter et Service Clientèle
Twitter = nouvel outil du Service Client ? - Social Media, Community Management, Social CRM, e-Reputation par Cédric Deniaud. Je vous avais parlé il y a quelques semaines des utilisations possibles de Twitter pour une entreprise (Quelle utilisation une entreprise peut-elle faire de Twitter ?).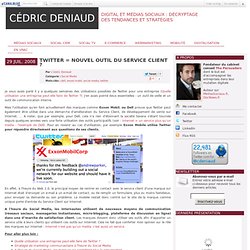 J'en avais pointé deux essentielles : un outil de veille et un outil de communication interne. Mais l'utilisation qu'en font actuellement des marques comme Exxon Mobil, ou Dell prouve que Twitter peut également être utilisé dans une démarche d'amélioration du Service Client, de développement de vente sur Internet, ... Twitter + Service Client = de la communication avant une vraie utilité ? Lorsque l'on parle Twitter, on peut voir différents usages (cf : Quelle utilisation une entreprise peut-elle faire de Twitter ?)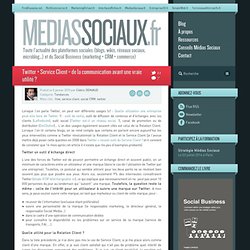 : outil de veille, outil de diffusion de contenus et d'échanges avec les clients (LaRedoute), outil social (Twitter est-il un réseau social ?) , canal de promotion ou de distribution (DellOutlet)… L'un des usages également souvent cités est celui de la Relation Client. Lorsque l'on lit certains blogs, on se rend compte que certains en parlent encore aujourd'hui les yeux émerveillés comme si Twitter révolutionnait la Relation Client et le Service Client (je l'avoue mettre déjà poser cette question en 2008 dans Twitter = nouvel outil du Service Client ? Et il convient de constater que 16 mois après cet article il n'existe que rès peu d'exemples probants) Get Satisfaction helps companies to follow Twitter conversations. At several of the conferences I visited this year, I saw Matt Colebourne from CoComment on stage, telling business people to participate in the online conversations.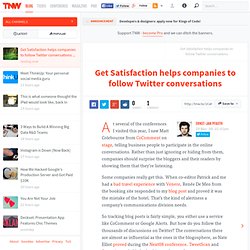 Rather than just ignoring or hiding from them, companies should surprise the bloggers and their readers by showing them that they're listening. Some companies really get this. Twelpforce Best Buy (twelpforce) How Microsoft Xbox Uses Twitter to Reduce Support Costs. For Microsoft's Xbox support team, there's no such thing as unwanted messages on Twitter – no matter how vulgar they may be.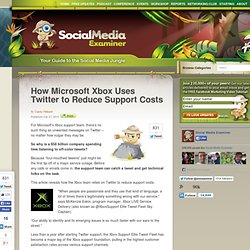 So why is a $58 billion company spending time listening to off-color tweets? Because "foul-mouthed tweens" just might be the first tip-off of a major service outage. Before any calls or emails come in, the support team can catch a tweet and get technical folks on the task. Microsoft Helps (MicrosoftHelps) Free ouvre son service client sur Twitter. Pour ceux qui s'intéressent de près à l'univers des médias sociaux (à priori la majorité des lecteurs de ce blog), nous savons à quel point Twitter peut se révéler être un excellent outil dans le cadre de la gestion d'un service client.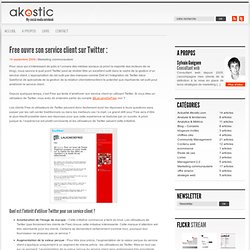 L'appropriation de cet outil par des marques comme Dell et l'intégration de Twitter dans Saleforce (le spécialiste de la gestion de la relation client)démontrent le potentiel que représente cet outil pour améliorer le service client. Depuis quelques temps, c'est Free qui tente d'améliorer son service client en utilisant Twitter. Freebox (LALIGNEDEFREE) Twitter, Customer Service, and Good Brand Management. If monitoring conversations and knowing what you're listening for is the first ingredient in good online best practices, knowing when and how to respond is much more than good etiquette.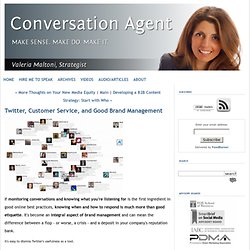 It's become an integral aspect of brand management and can mean the difference between a flop - or worse, a crisis - and a deposit in your company's reputation bank. It's easy to dismiss Twitter's usefulness as a tool. That is until you figure out that on Twitter you can find mentions of your brand and you can actually connect with customers directly and provide a first line of response. Chances are, that in 140 characters, you won't be able to do much more. But don't underestimate the importance of that public gesture.
---