Fashion blogs
Styles of Tomorrow Blog by Port-No8. FASHIONALLY. Sight Unseen. StartUp FASHION – StartUp Fashion – Creative Business Resource. Flavors.me : Status. Webpaper.fr. The Daily DRESS ME Fashion File. Vice and Vanity Jewelry. Le Magazine Elégant. What's Hot and What's Not this week | The D'Vine Blog. D'Style August 19, 2011 admin | Posted in D'Style Tagged Fashion, Style, Trends, What's Hot and What's Not HOT The rounded shoulder Not to be confused with Mugler's triangle shoulder – it's a softer yet structured look as seen at Givenchy.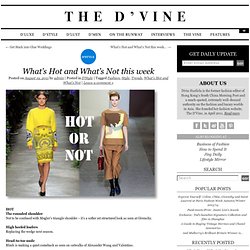 High heeled loafers Replacing the wedge next season. A Pair and a Spare | DIY Fashion. How I Met Your Style | Intimate portraits of your favorite style inspiration. Fashion Trends - Current Fashion Trends. Magnan & Tse Hong Kong Celebrates Milestone This Week. Step into my closet. RID FASHION STREET SNAP リッドファッションストリートスナップ. 東京のストリートファッション最新情報 スタイルアリーナ style-arena.jp. DROPTOKYO. FASHION JAPAN. TokyoFashion.com - Tokyo Fashion News.
Sam Is Home » Blog. My 101 Guide to Getting Clothes Tailored in Shenzhen To be honest, getting custom made clothing isn't for everyone.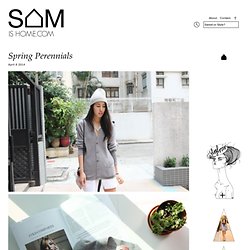 You'll most likely return to Zara with a whole new level of appreciation for what goes into your clothes. Excuse the word vomit but here's what I've learned in the past half year of working with tailors: Vincent Schoepfer Heavy Weight S/S 2011 Collection. News : And the winners are... :: Who's Next Blog - Nouvelle Fashion Community. And the winners are... // About WSNBlog // Added 2010/12/30 at 11:45 Here are the winners of the WSNBlog contest !
A true artist! Fall 2011 fashion color trends - Pantone Fashion Color Report Fall 2011. Oh my god, that's so fetch... Cindiddy.com : Fashion & Lifestyle. Fashion Squad. Sea of Shoes. The cherry blossom girl. The Blonde Salad. Fashiontoast. TheGoldenDiamonds. Style Scrapbook. Le Blog de Betty : Blog mode, blog tendances, photos de mode. Fashion - Scene Asia. Isabella's Fashion. MTV Style. StylePantry | Daily style, outfits, fashion finds, and lookbooks.
Discovering elegance. Thoughts on Style.
---