Tools to Research
www.achieve.org/files/AchieveOERRubrics.pdf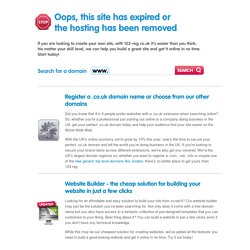 Register a .co.uk domain name or choose from our other domains Did you know that 4 in 5 people prefer websites with a .co.uk extension when searching online? So, whether you're a professional just starting out online or a company doing business in the UK, get your perfect .co.uk domain today and help your audience find your site easier on the World Wide Web. With the UK's online economy set to grow by 10% this year, now's the time to secure your perfect .co.uk domain and tell the world you're doing business in the UK. If you're looking to secure your brand name across different extensions, we've also got you covered. We're the UK's largest domain registrar so, whether you want to register a .com, .net, .info or maybe one of the new generic top level domains like .london, there's no better place to get yours than 123-reg.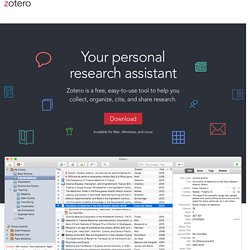 Cite perfectly. Whether you need to create footnotes, endnotes, in-text citations, or bibliographies, Zotero will do all the dirty work for you, leaving you free to focus on your writing. Create citations in Word and OpenOffice without ever leaving your word processor and add references to an email, a Google Doc, or some other editor simply by dragging one or more references out of Zotero. Always in style. Ready to submit your manuscript to Tropical Doctor or French Historical Studies? We've got you covered: with native integration of the powerful and flexible Citation Style Language (CSL), Zotero supports thousands of publication formats with more styles added daily.
Videatives | Video Clips for Early Childhood & Child Development
featured re-enactment Battle of Waterloo Mercer It is an unspeakable delight to leave that field of battle behind. Mon, Jun 20, 2011 04:30PM Mercer I can scarcely believe the last 4 days other than a troubled dream; but there is the battlefield, still encumbered with the slain. Mon, Jun 20, 2011 04:20PM Mercer The cheerful sunbeams play amongst the leaves & branches overhead.
TwHistory