Information
How-To Decrypt DVDs with HandBrake (So You Can Rip Them) Ripping DVDs is a great way to keep a backup and stream videos over your network.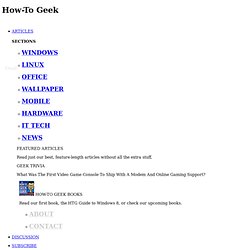 The process typically takes 2-3 different programs to accomplish the task. Here's how you can skip a step and decrypt DVDs using HandBrake. HandBrake has long been a favorite of How-To Geek and we have shown you a couple different ways that you can use it to rip DVDs and TV shows to your hard drive for storage and playback. OpenStreetMap.
Cloud Roundup for January 16, 2012 - ReadWriteCloud. Today's links include some thoughts from Bruce Schneier on surveillance, the latest update from OpenStack on community work and a post from Neelie Kroes (vice president of the European Commission) about cloud computing and data protection reform.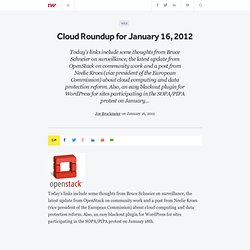 Also, an easy blackout plugin for WordPress for sites participating in the SOPA/PIPA protest on January 18th. Going Dark vs. a Golden Age of Surveillance – Schneier looks at the "policy debate that's been going on since the crypto wars of the early 1990s. " Dating a Geek? Take This Compatibility Quiz. Dating a geek can be a lot of fun: we all want our live-in tech support.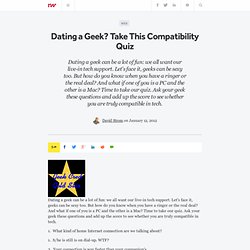 Let's face it, geeks can be sexy too. But how do you know when you have a ringer or the real deal? And what if one of you is a PC and the other is a Mac? Time to take our quiz. Ask your geek these questions and add up the score to see whether you are truly compatible in tech. How to Auto-Update Your System Utilities or Web Files with a Script. One of the great things about most system utilities is their portability.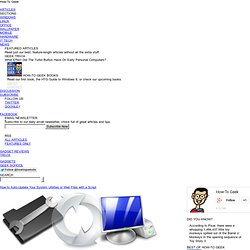 Many simply are distributed directly as an exe or in a zip file and are ready to use with no install required. Because of the simplicity of use, these types of applications are easily updated, however many lack any form of auto-update capability. Our UpdateFromWeb script solves this problem as it makes installing updates to portable applications, or any file available via the web for that matter, an automated process.
Blogs And News General. Health. IT. DIY Projects. Car.
---