Images
The Tools that Software Developers Use [Infographic]
Professor Oak's Master Plan - Dorkly Comic
What the Angry Birds Look Like after Battling the Pigs [Images]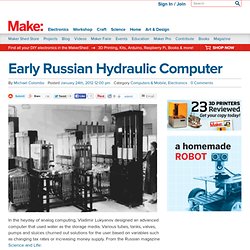 In the heyday of analog computing, Vladimir Lukyanov designed an advanced computer that used water as the storage media. Various tubes, tanks, valves, pumps and sluices churned out solutions for the user based on variables such as changing tax rates or increasing money supply. From the Russian magazine Science and Life: Built in 1936, this machine was "the world's first computer for solving [partial] differential equations," which "for half a century has been the only means of calculations of a wide range of problems in mathematical physics." Absolutely its most amazing aspect is that solving such complex mathematical equations meant playing around with a series of interconnected, water-filled glass tubes.
Early Russian Hydraulic Computer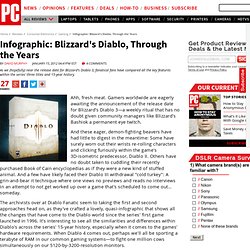 As we (hopefully) near the release date for Blizzard's Diablo 3, fanatical fans have compared all the key features within the series' three titles and 15-year history. Ahh, fresh meat. Gamers worldwide are eagerly awaiting the announcement of the release date for Blizzard's Diablo 3—a weekly ritual that has no doubt given community managers like Blizzard's Bashiok a permanent eye twitch. And these eager, demon-fighting beavers have had little to digest in the meantime: Some have surely worn out their wrists re-rolling characters and clicking furiously within the game's 3D-isometric predecessor, Diablo II. Others have no doubt taken to cuddling their recently purchased Book of Cain encyclopedias as if they were a new kind of stuffed animal.
Infographic: Blizzard's Diablo, Through the Years
112.png (PNG Image, 1000 × 5231 pixels) - Scaled (17%)
World Map of All Wars and Conflicts Happening In 2012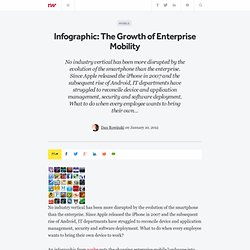 No industry vertical has been more disrupted by the evolution of the smartphone than the enterprise. Since Apple released the iPhone in 2007 and the subsequent rise of Android, IT departments have struggled to reconcile device and application management, security and software deployment. What to do when every employee wants to bring their own device to work? An infographic from xcube puts the changing enterprise mobile landscape into perspective.
Infographic: The Growth of Enterprise Mobility
The Top Ten Features of Windows 8 [Infographic]
Advertisements Can you imagine a world where we could create a living version of both a typical iOS and Android user then pit them against each in various tasks to find out once and for all which the is the best operating system? Yeah, that would be pretty sensational, but unfortunately it isn't going to happen, not anytime soon anyway. The people at BlueStacks have come up with, in my opinion, is the next best thing by creating the rather odd looking 'Mr.
Meet Mr. Android - An Example Of A Typical Android User [INFOGRAPHIC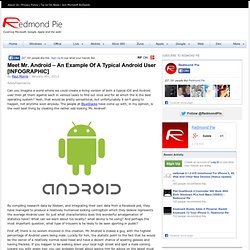 Cartoon: Not My Type
Why Yes, You Can Mirror Polish a DeLorean
Did you know that almost half of the TV shows that are recorded are played back on the same day? How about that the average Netflix customer watches five TV shows and four movies a week? Or that (no real surprise here) visits to video streaming and sharing sites continue to climb? A new infographic from G+/Gerson Lehrman Group shows these and a few other interesting trends too.
Infographic: The Changing TV Landscape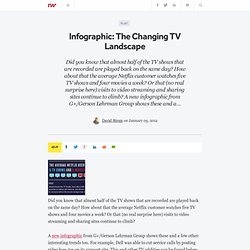 The Truth About Battery Meters [Humorous Image]
Mars_vertical_full.jpg (JPEG Image, 800x15899 pixels)
batman-infographic.jpg (JPEG Image, 1174x4281 pixels) - Scaled (21%)
Every Significant Batsuit Ever [Infographic]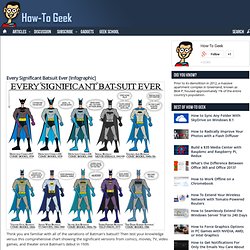 Think you are familiar with all of the variations of Batman's batsuit? Then test your knowledge versus this comprehensive chart showing the significant versions from comics, movies, TV, video games, and theater since Batman's debut in 1939. This is only a small section from the chart, so browse on over to see the rest on the full-size version linked below. View the Full-Size Chart (Very Large) Batman Infographic: Every (Significant) Bat-Suit Ever [via Neatorama]
Google and Memory [Infographic]
You can Never Have too Many Toolbars! [Humorous Image]
Infographic: Firefox Had Need for Speed in 2011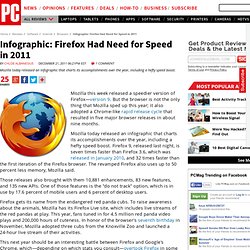 Mozilla today released an infographic that charts its accomplishments over the year, including a hefty speed boost. Mozilla this week released a speedier version of Firefox—version 9. But the browser is not the only thing that Mozilla sped up this year; it also adopted a Chrome-like rapid release cycle that resulted in five major browser releases in about nine months.
5 MB Hard-Drive from 1956 [Images]
The Internet Justice League: Internet Sites Recast As Super Heroes
What would Google, Facebook, Reddit, and other popular internet sites look like envisioned as super heroes (and villains)? Read on to see their powers and arch enemies. CollegeHumor shares a collection of super heroes and villains inspired by popular websites. Their collection includes Google, Facebook, Reddit, Huffington Post, Amazon, and more. Hit up the link below to check them out and then sound off in the comments with your own take on what kind of super hero/villain your favorite web sites would be.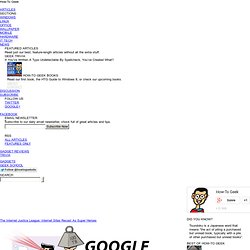 sshot4ee06a9714ee3.jpg (JPEG Image, 650x500 pixels)