Crafts
25 Handmade Gifts Under $5 | The 36th AVENUE - StumbleUpon. If your gift list is long and your budget is small here are some great Handmade Gifts that you can make.
Keep in mind that handmade items are not just beautiful but special… I love to give them and I love to receive them. In my opinion they are the best!
Fourth of July Citronella Candles. Jun24 by Brenda Ponnay It turns out citronella candles are pretty easy to make!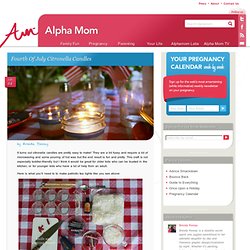 Random Tutorial Generator - StumbleUpon. Circle Zip Earbud Pouch Tutorial | Dog Under My Desk. UPDATE: I have completely re-written this tutorial with all new photos and better instructions and it is available as a licensed pattern in my pattern shop.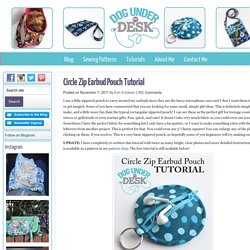 The free tutorial for personal use is still available below! I use a little zippered pouch to carry around my earbuds since they are the fancy microphone ones and I don't want them to break or get tangled. Some of you have commented that you are looking for some small, simple gift ideas. This is definitely simple to make, and a little more fun than the typical rectangular zippered pouch! I can see these as the perfect gift for teenage cousins or nieces or girlfriends or even teacher gifts. Classic Felt Flowers - Tutorial | Motherhood, Frugal Fashion & Thrifty...
May18th2010 First of all, I have to give credit where credit is due.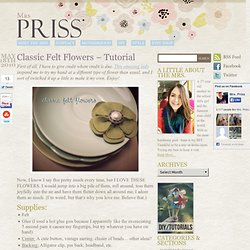 This amazing lady inspired me to try my hand at a different type of flower than usual, and I sort of switched it up a little to make it my own. Enjoy! Now, I know I say this pretty much every time, but I LOVE THESE FLOWERS. Recycled Pillow Box Favors. You know that I save toilet paper rolls.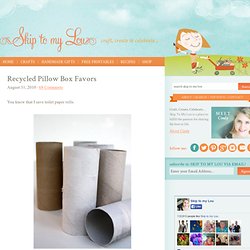 They can be made into so many things — mummies, rockets, Uncle Sam hats, flower party favors………………. even cute pillow boxes perfect for a little favor! Do stuff! & Ten minute no-sew recycled t-shirt bag! Tutorial time!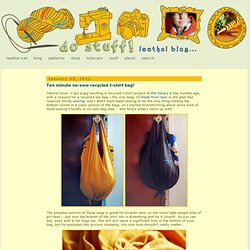 I got a gig teaching a recycled t-shirt project at the library a few months ago, with a request for a recycled tee bag – the only bags I'd made from tees in the past had required sturdy sewing, and I didn't want hand-sewing to be the only thing holding the bottom closed in a class version of the bags, so I started brainstorming about some kind of hand-sewing-friendly or no-sew bag idea…. and here's what I came up with!
The simplest version of these bags is great for smaller tees, or the more light-weight kind of girl-tees – just turn the bottom of the shirt into a drawstring and tie it closed! As you can see, even with a not huge tee, this will still leave a significant hole in the bottom of your bag, but for purposes like grocery shopping, this size hole shouldn't really matter… 21 Paint Chip Craft Ideas | The New Home Ec. By craftyamy | I have a stack of paint chips from various projects over the years.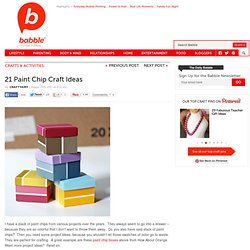 They always seem to go into a drawer – because they are so colorful that I don't want to throw them away. Do you also have said stack of paint chips?
Giftbags. Hair Crafts. Jewlery. Perfect Box Pouch Tutorial & Make it Modern. How insanely fabulous is this pouch?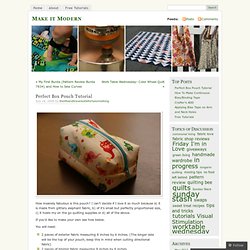 I can't decide if I love it so much because a) it is made from glittery elephant fabric, b) of it's small but perfectly proportioned size, c) it holds my on the go quilting supplies or d) all of the above. If you'd like to make your own see how below. Silly Mustache DIY Projects | The New Home Ec. By craftyamy | By Flickr user CDRyan Mustaches put a big smile on my face – they are so kitschy, and there is nothing funnier than a serious project with a big mustache on it.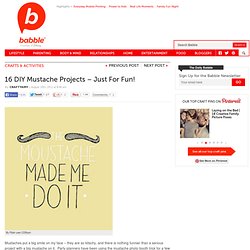 Party planners have been using the mustache photo booth trick for a few years, and since that time mustaches have expanded into pretty much every arena including the DIY world. I've found 15 mustache projects that impress me and then added in one that I did not so very long ago. Tutorial: Homemade Sidewalk Chalk | oh my! handmade goodness. By Michelle Vackar, Modern Handmade Child One of our favorite outside activities at our home is drawing with chalk on the driveway.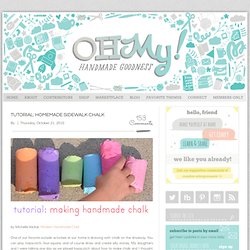 You can play hopscotch, four-square, and of course draw and create silly stories. My daughters and I were talking one day as we played hopscotch about how to make chalk and I thought to myself, let's try it! It ended up being quite a lot of fun. What you will need: • Toilet paper or paper towel tubes • Scissors • Duct tape • Wax paper • Small bucket or disposable container to make the recipe • ¾ cup of warm water • 1 ½ cups Plaster of Paris • 2-3 tablespoons of tempera paint • Paper bag or a "mess mat"
---