Mobile App Dev
Game Development for Mobile Devices
Mobile game developers choose Unity to create and market high-quality games with less time, cost and effort. They have an entire mobile game development ecosystem at hand, starting with a powerful rendering engine and a continuously updated development toolset with Unity 4. Unity 4 brings new features such as real-time shadows, dynamic fonts and full multi-screen AirPlay support that allows iOS device users running version 4.3 or later to use AirPlay to stream content direct to their HDTV. The ecosystem includes the awesome Asset Store, full of thousands of ready-made assets; in-depth Documentation and training, new Online Services to market and monetize their game, and valuable advice from ever-expanding communities of professional Unity iOS and Android developers.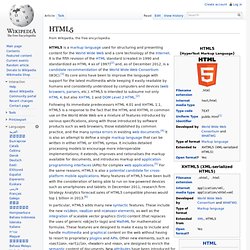 HTML5 is a markup language for structuring and presenting content for the World Wide Web and a core technology of the Internet . It is the fifth revision of the HTML standard (created in 1990 and standardized as HTML 4 as of 1997) [ 2 ] and, as of December 2012 [update] , is a W3C Candidate Recommendation . [ 3 ] Its core aims have been to improve the language with support for the latest multimedia while keeping it easily readable by humans and consistently understood by computers and devices ( web browsers , parsers , etc.). HTML5 is intended to subsume not only HTML 4 , but XHTML 1 and DOM Level 2 HTML as well. [ 2 ]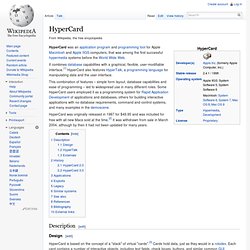 HyperCard was an application program and programming tool for Apple Macintosh and Apple IIGS computers that was among the first successful hypermedia systems before the World Wide Web . It combines database capabilities with a graphical, flexible, user-modifiable interface. [ 1 ] HyperCard also features HyperTalk , a programming language for manipulating data and the user interface. This combination of features - simple form layout, database capabilities and ease of programming - led to widespread use in many different roles. Some HyperCard users employed it as a programming system for Rapid Application Development of applications and databases, others for building interactive applications with no database requirements, command and control systems, and many examples in the demoscene .
HyperCard
SuperCard
HyperNext
LiveCode - RunRev
iWebKit
ND Event 2010