Enaction
Facebook Pinterest BarraPunto BlinkList blogmarks connotea Current Delicious Digg Diigo DZone eKudos Fark FriendFeed Google GooglePlus Gwar HackerNews Haohao HealthRanker Hemidemi Hyves Kirtsy LaTafanera LinkArena LinkaGoGo LinkedIn Linkter Meneame MisterWong Mixx muti MyShare MySpace Netvibes NewsVine Netvouz NuJIJ Posterous PDF Print Ratimarks Reddit Scoopeo Segnalo Slashdot Sphinn StumbleUpon Technorati ThisNext Tumblr Twitter Upnews Vkontakte Wykop Xerpi Yigg Yahoo SheToldMe Diggita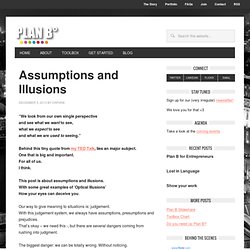 Assumptions and Illusions
ENOUGHNESS: Restoring Balance to the Economy in the Most Awesome Way Ever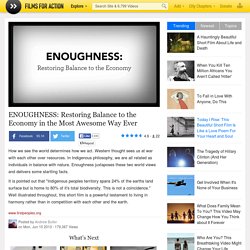 How we see the world determines how we act.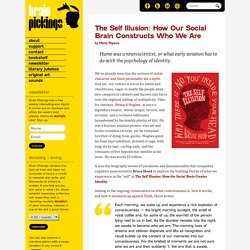 by Maria Popova
The Self Illusion: How the Social Brain Creates Identity
énaction - Valérie Buron, article Psychologie
Cet encadré est issu de l'article « Penser en action »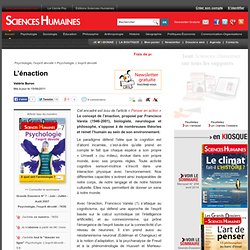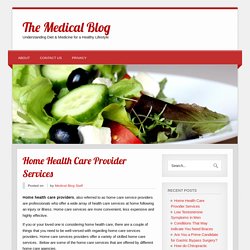 News: WISN Milwaukee - 4 hours ago
Enaction
Enaction, apprendre et enseigner en.... Denise Morel, Domenico Masciotra - 9782804159139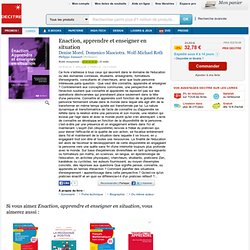 Biographie de Denise Morel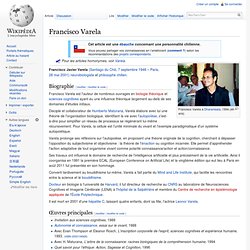 Un article de Wikipédia, l'encyclopédie libre. Pour les articles homonymes, voir Varela . Francisco Javier Varela ( Santiago du Chili , 7 septembre 1946 – Paris , 28 mai 2001 ) biologiste , neurologue et philosophe chilien .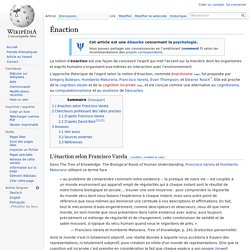 Un article de Wikipédia, l'encyclopédie libre. La notion d' énaction est une façon de concevoir l'esprit qui met l'accent sur la manière dont les organismes et esprits humains s'organisent eux-mêmes en interaction avec l'environnement. L'approche théorique de l'esprit selon la notion d'énaction, nommée énactivisme (en) , fut proposée par Gregory Bateson , Humberto Maturana , Francisco Varela , Evan Thompson , et Eleanor Rosch [ 1 ] .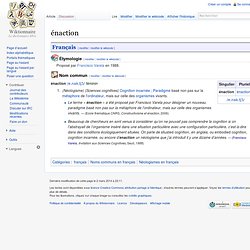 Définition, traduction, prononciation, anagramme et synonyme sur le dictionnaire libre Wiktionnaire. Étymologie Proposé par Francisco Varela en 1988. Nom commun énaction /e.nak.tjɔ̃/ féminin
énaction
Summer Schools / Ecoles thématiques
Ecole Enaction