May-June 2011
Foods are redefined as drugs.
Modern Medicine's Insanity: Belief that Food Is the Enemy
Gaia Health: The Corporation, Part 1 (video)
The Corporation, Part 1
Organic Consumers Association: Millions Against Monsanto Campaign
President Obama knows that agribusiness cannot be trusted with the regulatory powers of government. On the campaign trail in 2007 , he promised: We'll tell ConAgra that it's not the Department of Agribusiness.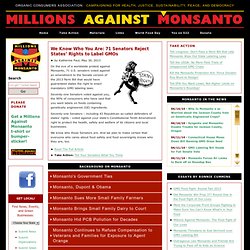 The GMO mass experiment on the public is producing results—terrifying ones.
GMO Toxins in Vast Majority of Pregnant Women and Fetuses: Canadian Study