Générateur
CSS3 Generator - By Peter Funk & Eric Hoffman. Cssarrowplease. Wigflip - toys and tools for the web. CSS3.0 Maker | CSS3.0 Generator | CSS 3.0 Generator | css3 generator.
3D Ribbon Generator - CSS3d.net. Generateur d'ombrage via box-shadow en CSS3 - Design et programmation web2 - Dji. Layer Styles. CSS Menu Generator. 50 Useful CSS Tools And Generators for Developers - Noupe Design Blog. Jul 11 2011 CSS tools are essential for web developers because they act like a sort of magic lamp that can simplify the job at hand.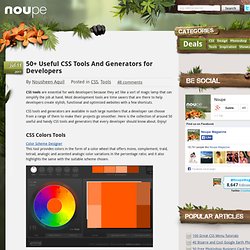 Most development tools are time savers that are there to help developers create stylish, functional and optimized websites with a few shortcuts. 25 Killer CSS3 Generators & Tools.
---