Twitter
All About Twitter Hashtags. After writing my Teacher Challenge guest post on using Twitter to build your PLN, I was asked by a number of people about hashtags.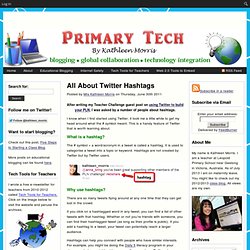 I know when I first started using Twitter, it took me a little while to get my head around what the # symbol meant. This is a handy feature of Twitter that is worth learning about. Educational Hash Tags. #fb4ed#FCE#FETC #FF#fft#filmclass#finnedchat#flatclass #flatclassroom#FLE#flipchat #flipclass#flteach #followalibrarian #followfriday#fooded#foodtechteachers #formativeassessment#forteachers #frimm#FYCchat #gaed#gafe#gamedeved#gamemooc#gamify#gamification#gapbis#gbl#GCSE#GCT#geniushour#geniustime#geochat#GeoEdChat#geographyteacher@geomchat #gifted #GlassEdExplorers#GlassExplorers#globalchem#globalclassroom#globaled#google #googlect#googleglass#G+eduhangout#googlesearch#GplusEd#grammar #grandparentlessons #graphic_organizers#gr8teacher#great-teaching #grtechedu #gt #gtaa #gtadmin #gtchat#gted#gtie #GTvoice#guidechat #health #healthed#highered #highschool #highscope #hiphoped#histedchat#history#historyteacher#historyteaching#homeschool#homeschoolers#homeschooling #hs #hsc#hsmath.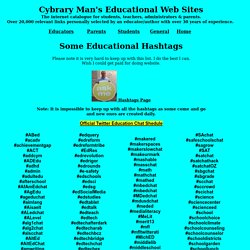 FrontPage. Tweeting in the Library. Librarians love Twitter not only because it provides an instant and easy window into what is happening in their libraries, but also because it serves as a tremendous professional development resource as well as a tool to globally connect teachers and students.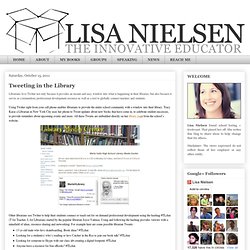 Using Twitter right from your cell phone enables librarians to provide the entire school community with a window into their library. Tracy Karas a Librarian in New York City uses her phone to Tweet updates about new books that have come in, to celebrate student successes, to provide reminders about upcoming events and more. All these Tweets are embedded directly on her library page from the school's website.
---