Basics
Handmade Corn Tortillas Recipe. Dallas.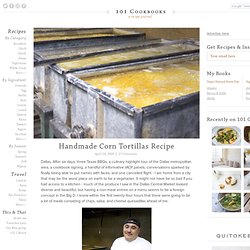 After six days, three Texas BBQs, a culinary highlight tour of the Dallas metropolitan area, a cookbook signing, a handful of informative IACP panels, conversations sparked by finally being able to put names with faces, and one cancelled flight - I am home from a city that may be the worst place on earth to be a vegetarian. It might not have be so bad if you had access to a kitchen - much of the produce I saw in the Dallas Central Market looked diverse and beautiful, but having a non-meat entree on a menu seems to be a foreign concept in the Big D. I knew within the first twenty-four hours that there were going to be a lot of meals consisting of chips, salsa, and cheese quesadillas ahead of me.
Luna's Tortilla Factory: Keeping watch over the cooking corn kernels. How to Make Pesto like an Italian Grandmother Recipe. If you've ever tasted pesto in Italy you know that the pesto here in the United States just isn't the same.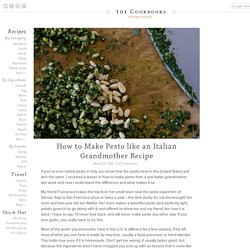 I received a lesson in how to make pesto from a real Italian grandmother last week and now I understand the difference and what makes it so. My friend Francesca makes the trip from her small town near the pesto-epicenter of Genoa, Italy to San Francisco once or twice a year - this time (lucky for us) she brought her mom and two-year old son Mattia. Her mom makes a beautiful pesto (and perfectly light, potato gnocchi to go along with it) and offered to show me and my friend Jen how it is done. Homemade Bouillon Recipe. This is a thank-you note to Pam Corbin.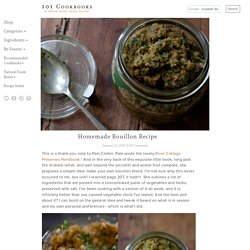 Pam wrote the lovely River Cottage Preserves Handbook.* And in the very back of this exquisite little book, long past the rhubarb relish, and well beyond the piccalilli and winter fruit compote, she proposes a simple idea: make your own bouillon blend. I'm not sure why this never occurred to me, but until I reached page 207, it hadn't.
---