Lamps
Photo Lampshade. PINTEREST UPDATE: This is a post from 2010.
I do not take custom orders, only the tutorial is available. The lamps have held up wonderfully. As many of you requested, Marie is sharing a little tutorial here on how she made her lampshades. When she made them she was not planning on doing a tutorial for this blog, so be sure to thank her for taking the time to write all this out. Plastic Cup Lamp. Now that my university is closed for winter holidays, I finally have more free time to do all the crafty things I've been wanting to.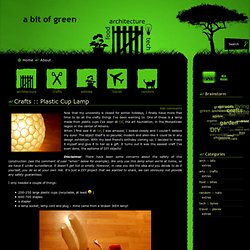 One of these is a lamp made from plastic cups I've seen at taf, the art foundation, in the Monastiraki region in the center of Athens. When I first saw it at taf, I was amazed; I looked closely and I couldn't believe my eyes! The object itself is so peculiar, modern and alien-like it could be in any design exhibition. With my best friend's birthday coming up, I decided to make it myself and give it to her as a gift. It turns out it was the easiest craft I've even done, the epitome of DIY objects! Sun Jar. UPDATE: This post originally ran on March 23 2011, but with summer winding down we wanted to bring it back up for some late summer inspiration!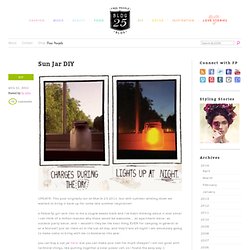 A fellow fp girl sent this to me a couple weeks back and i've been thinking about it ever since! I can think of a million reasons why these would be awesome… as apartment décor, as outdoor party décor, and – wouldn't they be the best thing EVER for camping in general or at a festival? Doily Lamps. Ambient light in 5 minutes flat!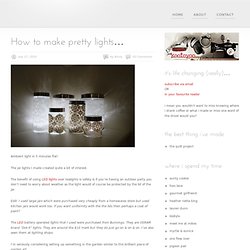 The jar lights I made created quite a bit of interest. The benefit of using LED lights over tealights is safety & if you're having an outdoor party you don't need to worry about weather as the light would of course be protected by the lid of the jar. Edit: I used large jars which were purchased very cheaply from a homewares store but used kitchen jars would work too. If you want uniformity with the the lids then perhaps a coat of paint? The LED battery operated lights that I used were purchased from Bunnings. Pop Top Lamp.
---