Photography
Photos - inspiration
Photography Tips. F-Stop Magazine ~ An online photography magazine featuring conte. Neat Image - best noise reduction for digital cameras and scanne. Phototuts+ | Photography and post-processing tutorials from begi.
Free Adobe Lightroom Tutorials | Layers Magazine. 25 Ways to Spice Up Blog Post Photos. Images enhance the visual impact of a blog and make it more likely a post will be read.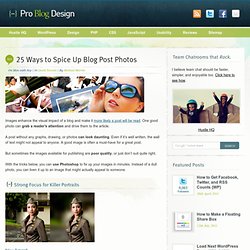 One good photo can grab a reader's attention and drive them to the article. A post without any graphs, drawing, or photos can look daunting. Digital Photography Tutorials. Learn how to take and edit digital photographs using visual tutorials that emphasize concept over procedure, independent of specific digital camera or lens.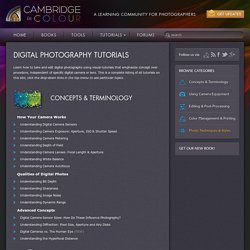 This is a complete listing of all tutorials on this site; click the drop-down links in the top menu to see particular topics. Photography is going through an exciting transition period as many film photographers are beginning to explore the new capabilities of digital cameras. 22 Professional Photoshop Image Enhancing Tutorials. Adobe Photoshop is the premier tool for digital artists when it comes to professionally enhancing images.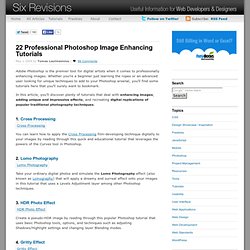 Whether you're a beginner just learning the ropes or an advanced user looking for unique techniques to add to your Photoshop arsenal, you'll find some tutorials here that you'll surely want to bookmark. In this article, you'll discover plenty of tutorials that deal with enhancing images, adding unique and impressive effects, and recreating digital replications of popular traditional photography techniques. 1. Cross Processing. Tutorials.
---