To look at and organize
Seattle Hearing and Balance Center
KNOCK
Event Planning Online: 14 Essential Social Media Tools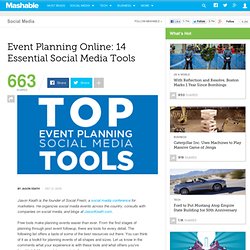 Jason Keath is the founder of Social Fresh, a social media conference for marketers. He organizes social media events across the country, consults with companies on social media, and blogs at JasonKeath.com.
SmartBlog On Social Media » Andy's Answers: Why it's OK if not e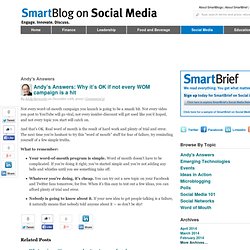 Not every word-of-mouth campaign you launch is going to be a smash hit. Not every video you post to YouTube will go viral, not every insider-discount will get used like you'd hoped, and not every topic you start will catch on.
By Jenn Riggle | Follow me on Twitter @
No Pain, No Gain: Lessons Learned From My Year With Twitter – Th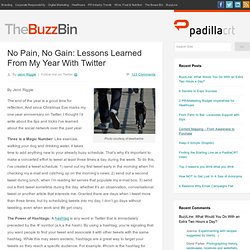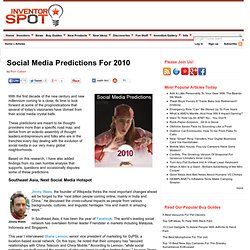 With the first decade of the new century and new millennium coming to a close, its time to look forward at some of the prognostications that several of today's visionaries have divined from their social media crystal balls. These predictions are meant to be thought-provokers more than a specific road map, and derive from an eclectic assembly of thought leaders,entrepreneurs and folks who are in the trenches every day dealing with the evolution of social media in our very many global neighborhoods.
Tibco: A Twitter-Like Service That's About Subjects More Than Pe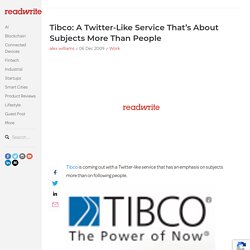 Tibco is coming out with a Twitter-like service that has an emphasis on subjects more than on following people. In Tibco's view, the enterprise is not just about the people anymore, but the subject and contextual information that relates to a person's job. The value is in decoupling the subject matter from the person so the right information can be found quickly and easily. The service is called tibbr, which Tibco describes as a workplace communications tool. It's in keeping with Tibco's focus on real-time technologies.
SmartBlog On Social Media » Andy's Answers: Traits of a great te
A great testimonial is a fantastic sales tool. A few words from a real fan telling the world how much they love your stuff is better than any clever copy you could come up with.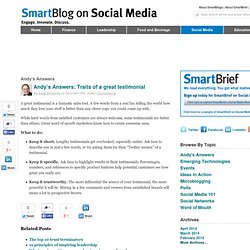 How Events Can Use Social Media
I'm presenting to the International Association of Exhibitions and Events (IAEE) conference today. These people all put on conferences for a living, a multi-billion dollar industry (note: I also put on conferences), and work with an events solutions company. What they'll want to know is how all these social media tools can improve attendance, drive collaboration, extend the value of events, without taking away any potential revenue.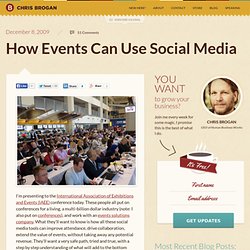 It's that time of year again—the season for looking back, reflecting on what transpired over the course of the year, and simultaneously looking forward, to formulate thoughts, and perhaps some hope, for what the coming year will bring. Like last year, I have seven predictions I'd like to share with our readers, many of which will get underway in 2010 but gather momentum and take on greater importance in subsequent years. 1. During 2010, as US ad budgets crack open just a little, look for an accelerated migration of ad dollars from traditional to digital media.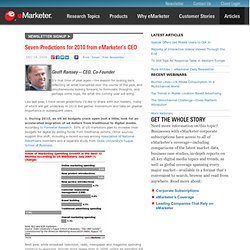 Seven Predictions for 2010 from eMarketer's CEO
SmartBlog On Social Media » Reality setting in: What Google's re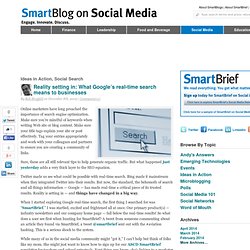 Online marketers have long preached the importance of search engine optimization.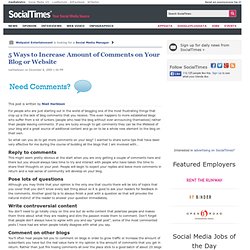 5 Ways to Increase Amount of Comments on Your Blog or Website
This post is written by Niall Harbison For people who are just starting out in the world of blogging one of the most frustrating things that crop up is the lack of blog comments that you receive. This even happens to more established blogs who suffer from a lot of lurkers (people who read the blog without ever announcing themselves) rather than people leaving comments.
Manhattan Users Guide
This this handed to me, Newsknife has just published a ranking of the Top News Sites of 2009. The big story is that Newsknife's combined figures for sites owned by Rupert Murdoch put them in second place at a time when Murdoch has declared his unhappiness with Google News.
Newsknife Announces Ranking of Top News Sites of 2009 - Search M
Small hoteliers have always been more nimble than their larger competitors and able to offer a warm, personal service. Social media tools like Twitter and Facebook only enhance this ability, when managed properly (especially time). Here's some of the ways a small hotelier can use Twitter and Facebook to enhance their online presence. Share Behind-the-Scenes Insights. Just hired some new staff, after a big retirement bash for one of your long time team members? Let people see how your establishment works, who are the personalities involved.
How Small Hoteliers Can Use Twitter and Facebook. - Monday, 14th
This holiday season is the first chance for most retailers to test the selling power of Facebook and Twitter, and one early survey shows the strategy is working. A survey conducted Dec. 4 to 7 showed 28 percent of shoppers who have already started buying gifts were influenced by social media, according to a report issued Tuesday by the research firm comScore Inc. of Reston, Va.
The Technology Chronicles : Holiday shoppers turning to Facebook
There are five ways to keep your Facebook pages working for you - and your fans - without running into cycles or idle chit chat, says Italian digital media agency Frozen Frogs.
Are Your Facebook Fans Truly Engaged?
5 Tips for Using Video to Grow Your Business in 2010
Patrick Moran is chief strategy officer at Fuze Box, the company behind Fuze Meeting.
Channel Store - Checkout
BestThinking
Five social media tips for 2010 | Blog
SearchStatus | Updated
Make music with Noteflight
Southern Gothic Productions | SoGoPro
StyleQuotient
Grown Up Thinking by Mr Youth