To look at and organize
Seattle Hearing and Balance Center. KNOCK. Event Planning Online: 14 Essential Social Media Tools. Jason Keath is the founder of Social Fresh, a social media conference for marketers.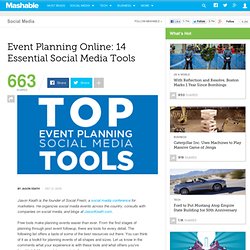 He organizes social media events across the country, consults with companies on social media, and blogs at JasonKeath.com. Free tools make planning events easier than ever. From the first stages of planning through post event followup, there are tools for every detail. The following list offers a taste of some of the best resources out there. You can think of it as a toolkit for planning events of all shapes and sizes. SmartBlog On Social Media » Andy's Answers: Why it's OK if not e. Not every word-of-mouth campaign you launch is going to be a smash hit.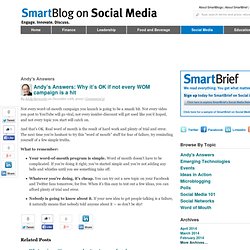 Not every video you post to YouTube will go viral, not every insider-discount will get used like you'd hoped, and not every topic you start will catch on. And that's OK. Real word of mouth is the result of hard work and plenty of trial and error. The next time you're hesitant to try this "word of mouth" stuff for fear of failure, try reminding yourself of a few simple truths. What to remember: Social Media Predictions For 2010. With the first decade of the new century and new millennium coming to a close, its time to look forward at some of the prognostications that several of today's visionaries have divined from their social media crystal balls.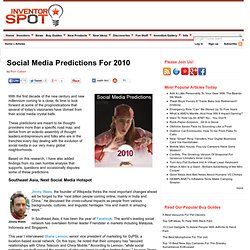 These predictions are meant to be thought-provokers more than a specific road map, and derive from an eclectic assembly of thought leaders,entrepreneurs and folks who are in the trenches every day dealing with the evolution of social media in our very many global neighborhoods. Based on this research, I have also added findings from my own humble analysis that supports, questions and occasionally disputes some of these predictions.
Southeast Asia, Next Social Media Hotspot Jimmy WalesJimmy Wales, the founder of Wikipedia thinks the most important changes ahead will be forged by the "next billion people coming online, mainly in India and China." Tibco: A Twitter-Like Service That's About Subjects More Than Pe. Tibco is coming out with a Twitter-like service that has an emphasis on subjects more than on following people.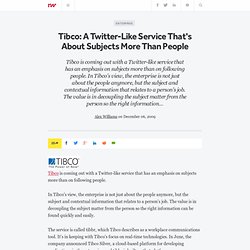 In Tibco's view, the enterprise is not just about the people anymore, but the subject and contextual information that relates to a person's job. The value is in decoupling the subject matter from the person so the right information can be found quickly and easily. SmartBlog On Social Media » Andy's Answers: Traits of a great te. A great testimonial is a fantastic sales tool.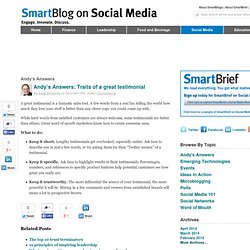 A few words from a real fan telling the world how much they love your stuff is better than any clever copy you could come up with. While kind words from satisfied customers are always welcome, some testimonials are better than others. Great word of mouth marketers know how to create awesome ones. What to do: Keep it short. How Events Can Use Social Media. I'm presenting to the International Association of Exhibitions and Events (IAEE) conference today.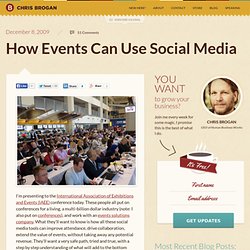 These people all put on conferences for a living, a multi-billion dollar industry (note: I also put on conferences), and work with an events solutions company. What they'll want to know is how all these social media tools can improve attendance, drive collaboration, extend the value of events, without taking away any potential revenue. Seven Predictions for 2010 from eMarketer's CEO. It's that time of year again—the season for looking back, reflecting on what transpired over the course of the year, and simultaneously looking forward, to formulate thoughts, and perhaps some hope, for what the coming year will bring.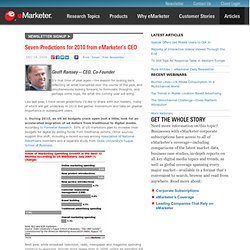 Like last year, I have seven predictions I'd like to share with our readers, many of which will get underway in 2010 but gather momentum and take on greater importance in subsequent years. 1. During 2010, as US ad budgets crack open just a little, look for an accelerated migration of ad dollars from traditional to digital media. SmartBlog On Social Media » Reality setting in: What Google's re. Online marketers have long preached the importance of search engine optimization.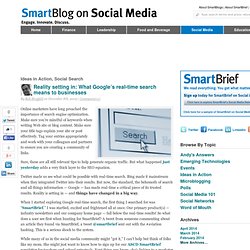 Make sure you're mindful of keywords when writing Web site or blog content. Make sure your title tags explain your site or post effectively. Tag your entries appropriately and work with your colleagues and partners to ensure you are creating a community of links. Sure, these are all still relevant tips to help generate organic traffic. 5 Ways to Increase Amount of Comments on Your Blog or Website. This post is written by Niall Harbison For people who are just starting out in the world of blogging one of the most frustrating things that crop up is the lack of blog comments that you receive.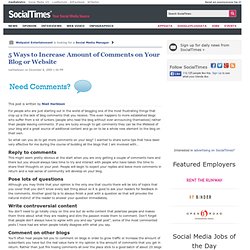 This even happens to more established blogs who suffer from a lot of lurkers (people who read the blog without ever announcing themselves) rather than people leaving comments. Building a Circle of Competence : Money :: American Express OPEN. Manhattan Users Guide. Newsknife Announces Ranking of Top News Sites of 2009 - Search M. This this handed to me, Newsknife has just published a ranking of the Top News Sites of 2009.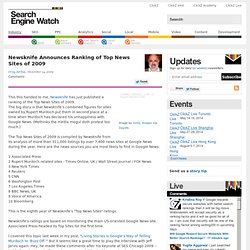 The big story is that Newsknife's combined figures for sites owned by Rupert Murdoch put them in second place at a time when Murdoch has declared his unhappiness with Google News. (Methinks the media mogul doth protest too much.) The Top News Sites of 2009 is compiled by Newsknife from its analysis of more than 311,000 listings by over 7,400 news sites at Google News during the year. Here are the news sources you are most likely to find in Google News: 1 Associated Press 2 Rupert Murdoch related sites - Times Online, UK / Wall Street Journal / FOX News 3 New York Times 4 Reuters 5 CNN 6 Washington Post 7 Los Angeles Times 8 BBC News, UK 9 Voice of America 10 Bloomberg.
How Small Hoteliers Can Use Twitter and Facebook. - Monday, 14th. Small hoteliers have always been more nimble than their larger competitors and able to offer a warm, personal service. Social media tools like Twitter and Facebook only enhance this ability, when managed properly (especially time). Here's some of the ways a small hotelier can use Twitter and Facebook to enhance their online presence. Share Behind-the-Scenes Insights. Just hired some new staff, after a big retirement bash for one of your long time team members? Let people see how your establishment works, who are the personalities involved.
The Technology Chronicles : Holiday shoppers turning to Facebook. This holiday season is the first chance for most retailers to test the selling power of Facebook and Twitter, and one early survey shows the strategy is working. A survey conducted Dec. 4 to 7 showed 28 percent of shoppers who have already started buying gifts were influenced by social media, according to a report issued Tuesday by the research firm comScore Inc. of Reston, Va. Of that total, 13 percent said they were influenced to buy a product by reading an online consumer-generated review, while 11 percent were influenced by an expert review. And 6 percent were influenced by friend's status update on Facebook, while 3 percent said they followed the advice of a Twitter tweet.
Also, 7 percent of the respondents joined a retailer's Facebook fan page – and 5 percent began following a retailer on Twitter – so they could get special holiday offers and discounts. Are Your Facebook Fans Truly Engaged? There are five ways to keep your Facebook pages working for you - and your fans - without running into cycles or idle chit chat, says Italian digital media agency Frozen Frogs. They did some work to figure out fan engagement rate and found that: (1.)
New product releases. 5 Tips for Using Video to Grow Your Business in 2010. Patrick Moran is chief strategy officer at Fuze Box, the company behind Fuze Meeting. He was also chief marketing officer at Mzinga, a leading social media and white label community provider, and led online marketing at Cisco WebEx. Fuze Box is one of the leading providers of real-time video collaboration tools today.
It's no secret that online video is hot. A recent study by comScore revealed that in October 2009, more than 167 million viewers in the U.S. watched an average of 167 videos each, while YouTube reached 1 billion views per day – or 41 million views per hour – in the same month. Channel Store - Checkout. The Guaranteed December 24 Delivery promotion is valid for select merchandise only.
This promotion excludes items that do not contain the following on their respective product details page: Guaranteed Delivery by Dec 24! Select ground shipping at checkout. Additionally, custom and oversized items are excluded from the Guaranteed December 24 Delivery promotion. BestThinking. HubPages.
Five social media tips for 2010 | Blog. Online Music Notation. SearchStatus | Updated. Make music with Noteflight. Southern Gothic Productions | SoGoPro. StyleQuotient. Grown Up Thinking by Mr Youth.
---