Social Studies
The state of U.S. immigration
Mr. Bruce's History - home
Insightful Social Studies
By Rich Cairn What are the Common Core State Standards? The Common Core State Standards (CCSS) outline grade-by-grade goals for all K-12 students—goals that are attuned to the advanced literacy skills needed for college, career and citizenship. The CCSS communicate a common understanding of what students should know and be able to do by their high school graduation. The standards are the result of a state-led initiative overseen by organizations of the nation's governors and state education commissioners. Nearly all states and the District of Columbia have adopted the CCSS.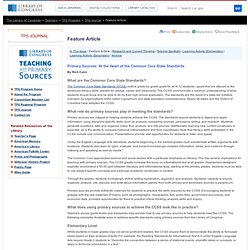 Feature Article - Primary Sources and the Common Core State Standards, Fall 2012- Teaching with Primary Sources | Teacher Resources - Library of Congress
Web 2.0 Tools for Social Studies Classrooms
Timelines.tv - History, documentary and television on the web
Published Online: January 29, 2013 Published in Print: January 30, 2013, as Let's Overhaul How We Teach History Commentary By Vicky Schippers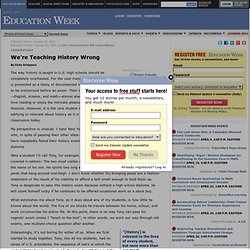 We're Teaching History Wrong
The Best Geography Sites For Beginning & Intermediate English Language Learners
Everything You Need to Know About 'Mint the Coin'
If you follow anybody remotely interested in politics on Twitter, you've probably seen a reference to "mint the coin" fly across your stream at some point this month. And if you've seen that reference, you might have some questions: What coin? Who's minting it? What's it for? Here's the skinny: According to the Treasury, the government hit its Congressionally-approved spending limit on Dec. 31 of 2012. While raising the debt ceiling has traditionally been a mostly uncontroversial practice, many congressional Republicans are now refusing to raise the debt ceiling unless Democrats agree to spending cuts.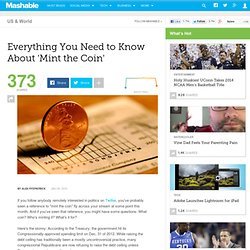 Pages can be sorted by theme or reader-submitted keywords. Submit your own reaction to the news and share your favorites after selecting a page. The iEconomy Series Debuts Jan. 22State of the Union Jan. 25A Tableau of Sorrow Feb. 9Middle-Class Entitlements Feb. 12A Chain of Kidney Transplants Feb. 19Deadly Tornadoes in the U.S. March 3U.S. Soldier Kills Villagers March 12Shooting of Trayvon Martin April 12Mexican Wal-Mart Bribery Scandal April 22Airstrikes in Sudan April 24Apple's Profit Protection Strategies April 29A New Page in the Afghan War May 2A Diverse Mix of Coverage May 5The Vanishing Mind May 6Senator Richard G.
Notable 2012 Front Pages From The New York Times - Interactive Feature
Manifest Destiny - The Story of The US Told In 141 Maps
Social Studies Rap Songs and Worksheet: Teaching US History, Government, and Geography
Yesterday, I published a review of MapFab which is a fabulous, free, and simple tool for creating maps online. Writing that post got me thinking about all of the other free map creation tools that I've reviewed over the years. Google Maps and Google Earth are my favorite tools for creating maps, but not every school allows teachers and students to download it. And creating Google Maps does require you to have a Google account which is an obstacle to use in some schools too. In the list below you will find some map creation tools that don't require registration. And, of course, all of the tools on this list are free for teachers and students to use.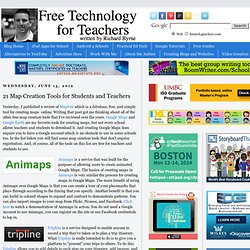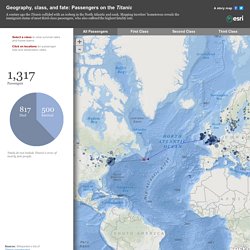 Geography, class, and fate: Passengers on the Titanic - A story map presented by Esri
More than 2,200 people were on board the Titanic when it struck an iceberg the night of April 14, 1912.
http://killerinfographics.submitinfographics.com/wp-content/uploads/2012/03/prohibition.jpg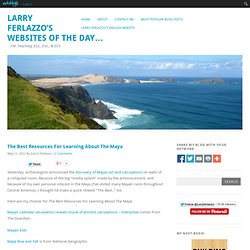 The Best Resources For Learning About The Maya
Yesterday, archeologists announced the discovery of Mayan art and calculations on walls of a collapsed room.
Ongoing exhibition, opened December 12, 2007. Exploring the Early Americas features selections from the more than 3,000 rare maps, documents, paintings, prints, and artifacts that make up the Jay I. Kislak Collection at the Library of Congress.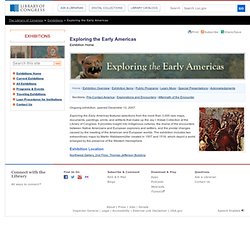 Urban Survivors - Médecins Sans Frontières
A bunch of you have sent me this list. It comes from Drew Breunig, a New Yorker who apparently works in the computer business, in advertising. It's a short history of "Frontiers" — territories that he says have challenged humans over the centuries, arranged in roughly chronological order.
Let's Play 'History As A List' : Krulwich Wonders...