Google+
Become a Google Search Ninja. How to use Google Spreadsheet to Quickly Build Teaching Resources | Teachers Training International – Helping you motivate, manage and engage your students. If you're new here, you may want to subscribe to my RSS feed.
Thanks for visiting! This post is part of the series of posts on How To Use Google Spreadsheet To Engage Your Students. To access these features you need to have a free Google account. You can watch the video found in this post to see the step by step process of signing up for an account. A1: What Is The Web? [Presentation] The Best Resources For Learning What Google+ Is All About.
NOTE: Google Plus is now open to everyone (including teens), and they've announced huge improvements to the service at the same time.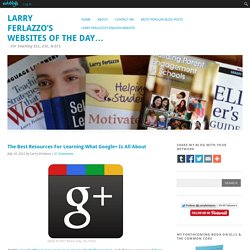 You can read more about their improvements here. Against my better judgment , I took advantage of Lee Kolbert's generous offer of providing Google+ invites to her Twitter followers. I'm still trying to figure out how, and if, I'm going to find the time for another network (for those of you who don't know, Google+ is Google's brand-new effort to create a Facebook-like social network), but enough people whose judgment I respect seem to think it could be a valuable tool. So I'm going to spend some time checking it out. 7 Ways Google+ Users Are Getting More Out of Their Circles. Using Google+?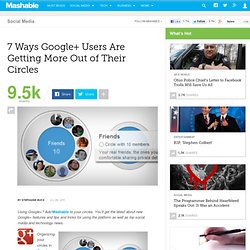 Add Mashable to your circles. You'll get the latest about new Google+ features and tips and tricks for using the platform as well as top social media and technology news. Google+ 100+ Google Tricks That Will Save You Time in School – Eternal Code.
[via onlinecolleges.net] With classes, homework, and projects–not to mention your social life–time is truly at a premium for you, so why not latch onto the wide world that Google has to offer?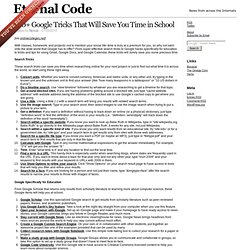 From super-effective search tricks to Google hacks specifically for education to tricks and tips for using Gmail, Google Docs, and Google Calendar, these tricks will surely save you some precious time. Search Tricks.
---