Hardware
CDs and DVDs in Eco-Wallets
Recycled 3 Ring Binders, Recycled Presentation Folders, Green Office, Composition Books
JVC Develops Eco-friendly DVD Disk
According to JCN Network, Victor Company of Japan (JVC) has developed an eco-friendly DVD disk made from corn starch-based polylactide. The disk incorporates polyactide-based transparent plastic for optical disk use, which JVC jointly developed with Toray Industries, to improve the disk's heat resistance by about 15 deg C, compared to conventional disks. The new plastic with superb optical properties can also be used for CDs, BDs (Blue-ray disks), and other optical disks.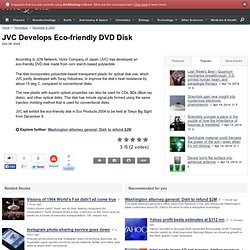 I'm looking for affordable and eco-friendly DVD packaging options. A small software company I'm doing work for needs eco-friendly packaging (cardboard) for their software DVDs, however, the intermittent print runs will be very small. What are some good options? Specifically, I'm looking for a specialty vendor that prints directly on the packaging at a good price or someplace that sells packaging blanks that we could apply our own front & back labels to. I originally suggested Jewelboxing , but it was just too much plastic.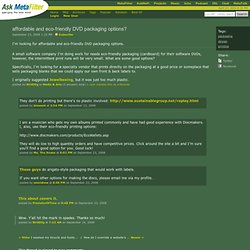 affordable and eco-friendly DVD packaging options?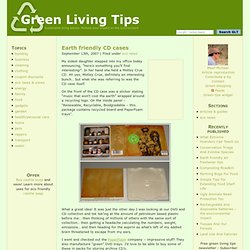 September 13th, 2007 | Filed under eco news My eldest daughter stepped into my office today announcing, "here's something you'll find interesting!".
Earth friendly CD cases