Food
Linguine with Garlicky Breadcrumbs Recipe. Kaytucky Chicken. I have a really fun recipe for you!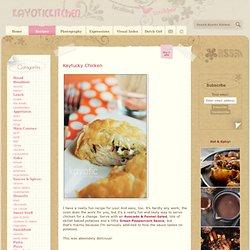 And easy, too. It's hardly any work; the oven does the work for you, but it's a really fun and tasty way to serve chicken for a change. Serve with an Avocado & Fennel Salad, lots of skillet baked potatoes and a little Green Peppercorn Sauce, but that's mainly because I'm seriously addicted to how the sauce tastes on potatoes. This was absolutely delicious! Directions: Tartelette. I was going to start this by saying that I had not married into a typical Southern family but to tell you the truth, I can't think of one typical Southern home.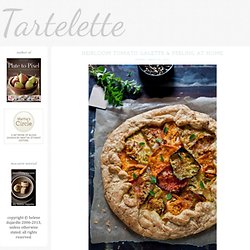 Here in the South you can be from the Lowcountry, the Midlands or the Mountains. Three different ways of life, three different Southern twang lingering after each word. Lynn's Paradise Biscuits. Lynn's Paradise Biscuits April 23, 2012 | By Adam Roberts | 30 Comments Once upon a time, my friend Patty told me that the best biscuits she'd ever had in her life were at Lynn's Paradise Cafe in Louisville, Kentucky.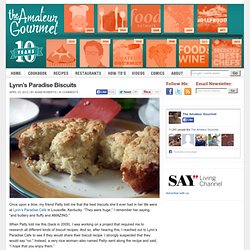 Recipe for pasta bow ties with broccoli, white beans, pine nuts and feta. When I was a little girl, I'd smother in ketchup anything I had to eat but didn't naturally love.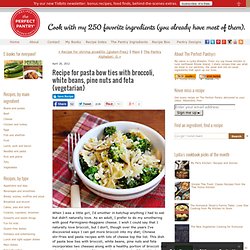 As an adult, I prefer to do my smothering with good Parmigiano-Reggiano cheese. I wish I could say that I naturally love broccoli, but I don't, though over the years I've discovered ways I can get more broccoli into my diet; Chinese stir-fries and pasta recipes with lots of cheese top the list. Goddess Of Scrumptiousness. Pasta with garlicky broccoli rabe. In my humble opinion, there's cooking and there's cooking.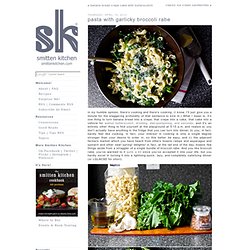 (I know, I'll just give you a minute for the staggering profundity of that sentence to kick in.) What I mean is, it's one thing to turn banana bread into a crepe, that crepe into a cake, that cake into a vehicle for walnut butterscotch, drooling, diet-postponing, and seconds, and it's an entirely other thing to find yourself at the playground at 5:15 p.m. and realize a) you don't actually have anything in the fridge that you can turn into dinner, b) you, in fact, barely feel like cooking, in fact, your interest in cooking is only a single degree stronger than your desire to order in, so this better be easy, and c) the adjacent farmers market which you have heard from others boasts ramps and asparagus and spinach and other new!
Spring! Delights! In fact, at the tail end of the day, boasts few things aside from a straggler of a single bundle of broccoli rabe. Goddess Of Scrumptiousness • Rustic Style Roasted Potatoes with Roasted Garlic... Cheesy Jalapeño Popper Baked Stuffed Chicken. What happens when you combine Skinny Baked Jalapeño Poppers with chicken??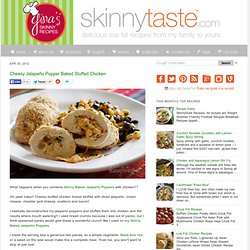 Oh yeah baby!! Cheesy stuffed chicken breast stuffed with diced jalapeño, cream cheese, cheddar jack cheese, scallions and bacon! Recipe for pasta bow ties with broccoli, white beans, pine nuts and feta. Garlic Noodles with Miso Butter. Monday, April 23, 2012 Garlic Noodles with Miso Butter This is a variation of one of the most popular recipes from my cookbook (Todd & Diane posted the recipe for Garlic Butter Noodles) and SteamyKitchen.com (Garlic Scallion Noodles).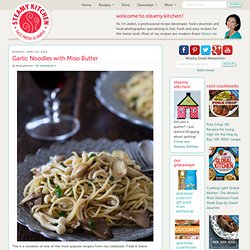 I've one-upped the recipe by adding in a spoonful of miso paste and throwing in fresh mushrooms, which is like upgrading from (okay, I just deleted a lame analogy of something related to stereos….too doiky, too predicable….deerrrrrr….) Anyways, the miso paste, even just just a spoonful of it, melted into butter gives the entire dish richness (without adding meat!) Spring Recipe: Spaghetti Pan-Fried with Ramps & Mint. It's barely a recipe; it does lean on your own sense of timing and feeling of when the pasta is hot and cooked through, and when the ramps are soft and wilted.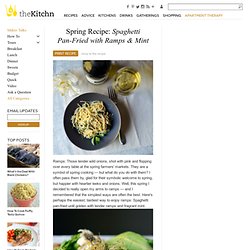 It's a fast dish too — it just takes a few moments to sauté. Spaghetti Pan-Fried with Ramps & Mint. Mustard-Herb Panko Crusted Chicken Breasts. Mustard-Herb Panko Crusted Chicken Breasts I remembered loving a Mustard-Herb Crusted Pork Tenderloin I made awhile ago so I decided to adapt it a bit to work with chicken breasts that I had in the refrigerator.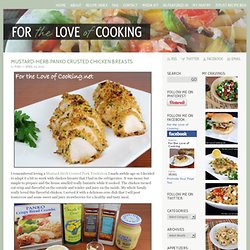 It was messy but simple to prepare and the house smelled really fantastic while it cooked. The chicken turned out crisp and flavorful on the outside and tender and juicy on the inside. My whole family really loved this flavorful chicken. I served it with a delicious orzo dish that I will post tomorrow and some sweet and juicy strawberries for a healthy and tasty meal.
Behind the Bites.
---