Quotes
Kids talk Science. This page is brought to you by UC Berkeley Parents Network Back to the Jokes & Quotes Collection THE FOLLOWING ARE ALL QUOTES FROM 11 YEAR OLDS' SCIENCE EXAMS: * "Water is composed of two gins, Oxygin and Hydrogin.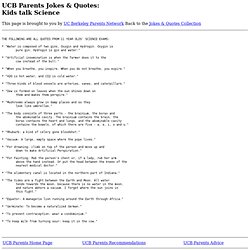 Oxygin is pure gin. Hydrogin is gin and water. " * "Artificial insemination is when the farmer does it to the cow instead of the bull. " * "When you breathe, you inspire. Love Quotes & Beautiful Quotes & Touching Quotes. Various quotations | #244 & From up North | Design inspiration & news. Quote by Bob Marley: "Only once in your life, I truly believe, you find...". Pictures With Words (Part 3) | SadAndUseless.com. 20 Awesomely Untranslatable Words from Around the World. 100 Inspiring Quotes & Demanding Joy - StumbleUpon. So many people have said so many things so much better than I will ever be able to.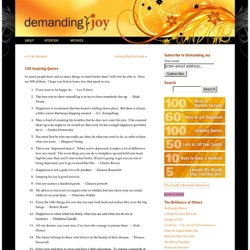 Here are 100 of them. I hope you find at least a few that speak to you. If you want to be happy, be. – Leo Tolstoy The best way to cheer yourself up is to try to cheer somebody else up. – Mark Twain Happiness is excitement that has found a settling down place. But there is always a little corner that keeps flapping around. – E.L.
Ernest Hemingway quotes. Creative Truths. Creative Truths Nice series called Creative Truths by Shirley-Ann Dick. 28th of September 2010.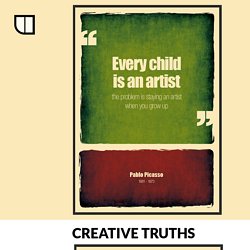 Shoot First, Eat Later: Profound Thoughts. Quote by Woody Allen: "In my next life I want to live my life backwards....". Inspiration Gallery #189 – Quotations. In From up North's inspiration galleries we present the latest of our findings from the wonderful world of design.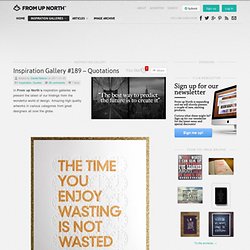 Amazing high quality artworks in various categories from great designers all over the globe. Wasted time May the bridges I burn light the way. 365Quotes.
---