Blocs-notes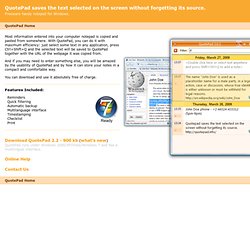 Most information entered into your computer notepad is copied and pasted from somewhere. With QuotePad, you can do it with maximum efficiency: just select some text in any application, press Ctrl+Shift+Q and the selected text will be saved to QuotePad together with the URL of the webpage it was copied from. And if you may need to enter something else, you will be amazed by the usability of QuotePad and by how it can store your notes in a compact and comfortable way. You can download and use it absolutely free of charge.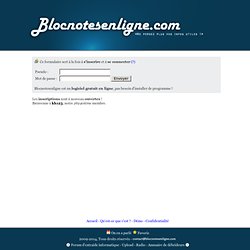 Bloc-notes en ligne numérique personnalisé
http://www.blocnotesenligne.com est un bloc-notes numérique personnalisé virtuel gratuit avec éditeur de texte en ligne WYSIWYG. C'est une alternative gratuite à Google Notes et Google Docs. Ce générateur de notes et mémos online vous sera très utile pour conserver une trace de vos notes en ligne. Essayez vite notre éditeur de notes en ligne liés à votre blocnotes gratuit.Ce formulaire sert à la fois à s'inscrire et à se connecter (?)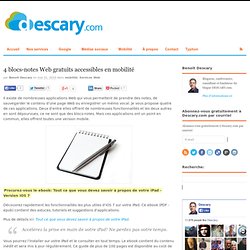 4 blocs-notes Web gratuits accessibles en mobilité | Descary
Il existe de nombreuses applications Web qui vous permettent de prendre des notes, de sauvegarder le contenu d'une page Web ou enregistrer un mémo vocal. Je vous propose quatre de ces applications. Deux d'entre elles offrent de nombreuses fonctionnalités et les deux autres en sont dépourvues, ce ne sont que des blocs-notes.