Mastering social media 3.0
At some point in the last year or so, someone pegged me as an influential blogger… and then it started. A constant and never-ceasing stream of daily e-mails from various PR companies mindlessly clogging up my inbox. The volume has picked up substantially and is sometimes followed up with a phone call to check "if you've had a chance to read our release".
How PR fails at Blogger Outreach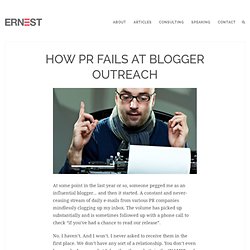 A few years later, I reluctantly lent my collection of magazines to a (now former) friend. He had just bought a house that he had no idea what to do with. I, on the other hand, had nothing but ideas. O.K., they weren't strictly mine, in the sense that these ideas were acquired, arranged, styled, photographed, published and distributed by entities bearing no relation to me whatsoever. They were mine because I internalized them.
Pinterest, Tumblr and the Trouble With 'Curation'
98. I'm Remembering! — The 100 Best Tumblrs of All Time | Complex#gallery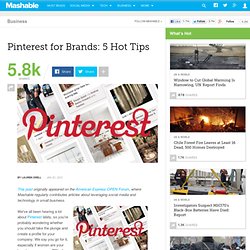 This post originally appeared on the American Express OPEN Forum , where Mashable regularly contributes articles about leveraging social media and technology in small business. We've all been hearing a lot about Pinterest lately, so you're probably wondering whether you should take the plunge and create a profile for your company. We say you go for it, especially if women are your target consumers — 70% of pinners are female. Pinterest has a highly engaged audience — a reported 3.3 million users logging more than 421 million pageviews — so there's plenty of opportunity for brands to flesh out pinboards and catch pinners' eyes. First, let's go through a quick explanation of how it works. Pinterest is a visual social discovery network.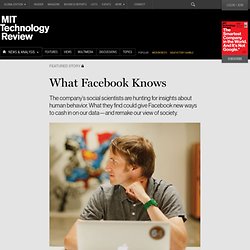 Photographs by Leah Fasten If Facebook were a country, a conceit that founder Mark Zuckerberg has entertained in public , its 900 million members would make it the third largest in the world. It would far outstrip any regime past or present in how intimately it records the lives of its citizens. Private conversations, family photos, and records of road trips, births, marriages, and deaths all stream into the company's servers and lodge there. Facebook has collected the most extensive data set ever assembled on human social behavior.
http://t.co/BToMqNr7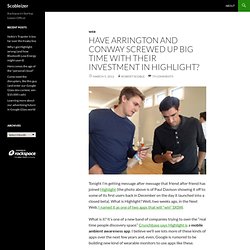 Have Arrington and Conway screwed up big time with their investment in Highlight?
Tonight I'm getting message after message that friend after friend has joined Highlight (the photo above is of Paul Davison showing it off to some of its first users back in December on the day it launched into a closed beta). What is Highlight? Well, two weeks ago, in the Next Web, I named it as one of two apps that will "win" SXSW .
Do you know any european counterparts? by cassius Mar 5