GIMP
The Basics Tutorial. Text and images Copyright (C) 2002 Jens Lautenbacher and may not be used without permission of the author.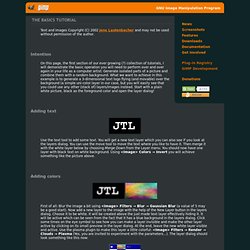 Intention On this page, the first section of our ever growing (?) Collection of tutorials, I will demonstrate the basic operation you will need to perform over and over again in your life as a computer artist: Generate isolated parts of a picture and combine them with a random background. What we want to achieve in this example is to generate a 3-dimensional text logo flying (and movable) over the background (a simple uni-color layer in our case, but you will easily see that you could use any other (stack of) layers/images instead.
Start with a plain white picture, black as the foreground color and open the layer dialog! How to make a transparent background/selection on an image using GIMP. Open your image.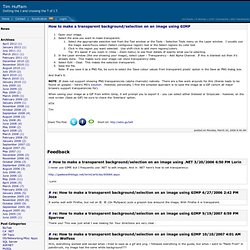 Select the area you want to make transparent. Select the appropriate selection tool from the Tool window or the Tools - Selection Tools menu on the Layer window. I usually use the magic wand/fuzzy select (Select contiguous region) tool or the Select regions by color tool. Click in the region you want selected. Semi circular text with Gimp. GIMP.
---