Design Thinking
Get flash to fully experience Pearltrees
This year marks the third anniversary of the Rotman Design Challenge. It started out as a commendable experiment by the school's Business Design Club to expose MBAs at the University of Toronto's Rotman School of Management to the value of design methods in business problem solving. This year, the competition drew teams from a few other MBA schools and some of the best design schools in North America.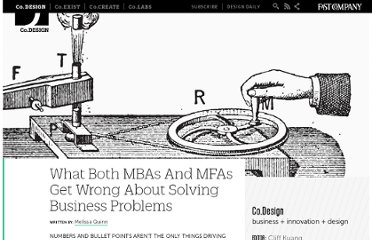 Imagine for a second if you could somehow wrap up the creative chaos of a kindergartner's life and apply it at work. You'd go on field trips, make stuff, hatch crazy ideas, and be awed by the world on a daily basis. Sound ridiculous?
"His voice can be heard above the noise, please welcome Bruce McCall!" As a self-taught polymath and current humorist for The New Yorker, McCall indulges in nonsense.
For years, businesses have used human-centered design to develop innovative solutions. Why not apply the same approach to overcome challenges in the nonprofit world? This project, funded by International Development Enterprise (IDE) as part of a grant from the Bill & Melinda Gates Foundation, sought to provide NGOs and social enterprises with the tools to do just that. IDEO, in collaboration with nonprofit groups ICRW and Heifer International, developed the HCD Toolkit to help international staff and volunteers understand a community's needs in new ways, find innovative solutions to meet those needs, and deliver solutions with financial sustainability in mind. The HCD Toolkit was designed specifically for NGOs and social enterprises that work with impoverished communities in Africa, Asia, and Latin America.
I explained to them that "design thinking" is crucial to any innovation effort if a company wants to break out of its current competitive structure. Today's management concepts are heavily based on "optimization" and "scale economics". It means making better use of your resource and exercise your market power to gain competitive advantage.