Design Thinking
Need To Solve A Tough Business Problem? Look Beyond The MBAs. This year marks the third anniversary of the Rotman Design Challenge.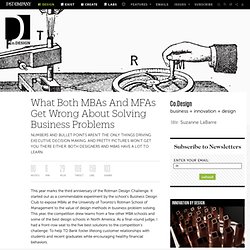 It started out as a commendable experiment by the school's Business Design Club to expose MBAs at the University of Toronto's Rotman School of Management to the value of design methods in business problem solving. This year, the competition drew teams from a few other MBA schools and some of the best design schools in North America. As a final-round judge, I had a front-row seat to the five best solutions to the competition's challenge: To help TD Bank foster lifelong customer relationships with students and recent graduates while encouraging healthy financial behaviors. IDEO | A Design and Innovation Consulting Firm. IDEO: Big Innovation Lives Right on the Edge of Ridiculous Ideas. Imagine for a second if you could somehow wrap up the creative chaos of a kindergartner's life and apply it at work.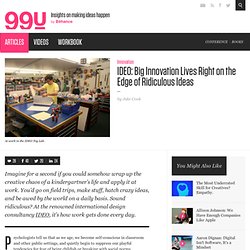 You'd go on field trips, make stuff, hatch crazy ideas, and be awed by the world on a daily basis. Sound ridiculous? Tim Brown: The powerful link between creativity and play. Tom Wujec: Build a tower, build a team. Living Climate Change | Fresh Thinking About Our Future. Stanford's Kelley Discusses `Design Thinking': Video. ART CENTER DESIGN CONFERENCE 2008 | Art Center College of Design, Pasadena, CA | May 7, 8 & 9, 2008. "His voice can be heard above the noise, please welcome Bruce McCall!"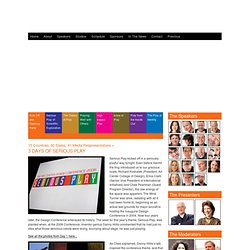 As a self-taught polymath and current humorist for The New Yorker, McCall indulges in nonsense. For example, a Scottish castle where people are playing golf indoors with the goal to bang the golf balls off the armor. McCall's work is so personal, so strange that he's invented his own lexicon: Retrofuturism: looking back to see how yesterday will view tomorrow, as they are always optimistically wrong Technoarchaeology: digging back and finding past miracles that never happened. Work - Human Centered Design Toolkit - IDEO. For years, businesses have used human-centered design to develop innovative solutions.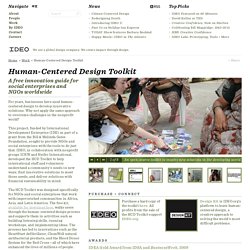 Why not apply the same approach to overcome challenges in the nonprofit world? This project, funded by International Development Enterprise (IDE) as part of a grant from the Bill & Melinda Gates Foundation, sought to provide NGOs and social enterprises with the tools to do just that. IDEO, in collaboration with nonprofit groups ICRW and Heifer International, developed the HCD Toolkit to help international staff and volunteers understand a community's needs in new ways, find innovative solutions to meet those needs, and deliver solutions with financial sustainability in mind. The HCD Toolkit was designed specifically for NGOs and social enterprises that work with impoverished communities in Africa, Asia, and Latin America. 10 Design Thinking Principles for Strategic Business Innovation. I explained to them that "design thinking" is crucial to any innovation effort if a company wants to break out of its current competitive structure.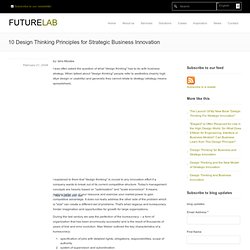 Today's management concepts are heavily based on "optimization" and "scale economics". It means making better use of your resource and exercise your market power to gain competitive advantage. It does not really address the other side of the problem which is "size" can create a different set of problems. That's when legacys and bureaucracy hinder imagination and opportunities for growth for large organizations. During the last century we saw the perfection of the bureaucracy -- a form of organization that has been enormously successful and is the result of thousands of years of trial and error evolution. Innovation Through Design Thinking.
---