Architecture
Whole Foods is coming? Time to buy - Dream City. If you ask Whole Foods why it's breaking ground on a store in Midtown Detroit this month, it'll say it wants to be part of "an incredible community" and "make natural foods available to everyone."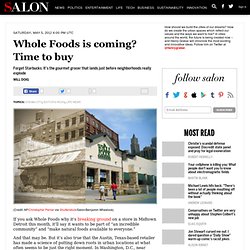 And that may be. But it's also true that the Austin, Texas-based retailer has made a science of putting down roots in urban locations at what often seems to be just the right moment. In Washington, D.C., near Logan Circle in 2000, Uptown New Orleans and the East Liberty section of Pittsburgh in 2002, Boston's "Latin Quarter" in Jamaica Plain in 2011 — areas that other specialty grocers might have considered unworthy of goat cheese and ostrich eggs, but that were actually on the verge of a boom that, lo and behold, kicked into high gear as soon as Whole Foods moved in. "Whole Foods will move into neighborhoods that, at first glance you think, why are they moving there?" Says Bill Reid, a principal at the Portland, Ore., land-use consultancy Johnson Reid. Metropol Parasol, Sevilla. Details Special facts Metropol Parasol is one of worlds largest timber engineering constructions with 3400 individual wooden elements.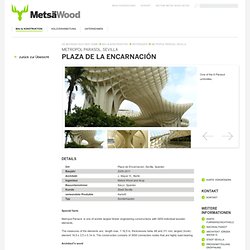 The measures of the elements are: length max. = 16,5 m, thicknesses betw. 68 and 311 mm, largest (trunk) element 16,5 x 3,5 x 0,14 m. The construction consists of 3000 connection nodes that are highly load-bearing. Architect's word "Metropol Parasol" is the new icon project for Sevilla, - a place of identification and to articulate Sevilla's role as one of Spains most fascinating cultural destinations. Tel Aviv Museum of Art. On our last day in Israel we had a tour of the newly opened Herta and Paul Amir Building at the Tel Aviv Museum of Art.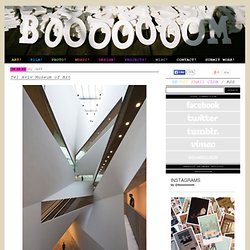 It was designed by architecture firm Preston Scott Cohen, and it is astonishing. All of the images above are © Amit Geron. Wheeeeeee! Slides Made for Adults, in Dire Need of Fun [Video] Summer ends today, which means we must all go back to our humdrum all-work autumnal lives.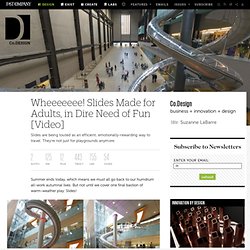 But not until we cover one final bastion of warm-weather play: Slides! Slide@T3 claims to be the tallest in Singapore This week, the Slide@T3 opened in Singapore's Changi Airport, a pair of slides that twirl through its Terminal 3. New York by Gehry at 8 Spruce Street. Frank Gehry: Dizzy heights | Art and design. 'I'm getting tearful," says Frank Gehry when I ask him how he feels about finally making his mark on the Manhattan skyline.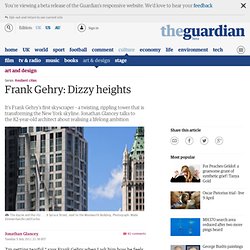 "My father grew up in Hell's Kitchen, 10th Avenue, on the city's West Side. " Irving Goldberg was one of nine children in a very poor immigrant family; his son changed his name in the early 1950s. "He started work at 11," says Gehry. "He had a hard life. Domus. Diller scofidio + renfro. Looking, Moving, Gathering: Functions of the High Line. New York's beloved High Line is a machine for generating three types of urban social activity: looking, moving, and gathering.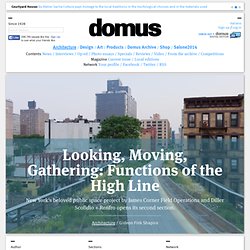 The June 7 inauguration of the second section of the elevated park, designed by James Corner Field Operations and Diller Scofidio + Renfro, has doubled the length of the park to one full mile (1.6 km). Cutting an elevated, verdant path through West Chelsea, the High Line now offers doubly abundant opportunities for looking (at the city, at each other, at oneself), moving (aimlessly or purposefully), and gathering (with friends, with strangers, with one's thoughts). Separated by a chicken-wire fence until this week, the first and second sections of the elevated park now blur seamlessly. Carlo Ratti: Architecture that senses and responds.
---