Photography
Portrait Photography : Tips and Techniques to getting a better portrait | Part 1 « Trent Chau | Atlanta Photographer. Focus on the eyes, blurring of the background, lighting to create dimension, texture both smooth and rough…these are but a few of things we can dissect that make a portrait stand out.
**This post was originally on my old blog and has now found it's way here** I love portrait photography. There's something about working with another person, having a great dialog with them, and taking memorable photographs that make me a happy camper. Laughable Photography.
25 Beautiful Macro Photography Shots - Smashing Magazine. Advertisement Macro photography is the art of taking close-up pictures that reveal details which can't be seen with the naked eye.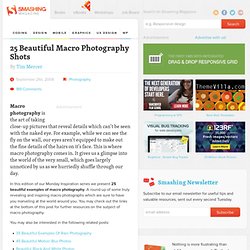 For example, while we can see the fly on the wall, our eyes aren't equipped to make out the fine details of the hairs on it's face. This is where macro photography comes in. It gives us a glimpse into the world of the very small, which goes largely unnoticed by us as we hurriedly shuffle through our day. In this edition of our Monday Inspiration series we present 25 beautiful examples of macro photography.
---