Curatology
Exhibition design | Node. Lecturer: Iohanna Nicenboim Duration: From April 21st to May 12th, 2014 Application deadline: April 16th, 2014 This course examines the planning and designing of three-dimensional environments that encourage visitor's understanding, participation, and emotional engagement.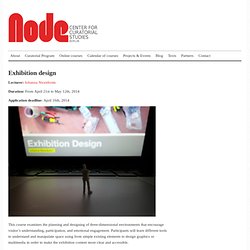 Proposals. Curatorial opportunity at apexart Anywhere but here: curatorial opportunity at apexart apexart's Franchise Program open call is an opportunity for anyone to submit a proposal for ...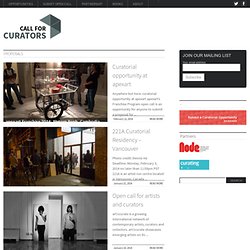 Open call for artists and curators art:i:curate is a growing international network of contemporary artists, curators and collectors. art:i:curate showcases emerging artists on its ... KARST Curatorial Open Call 2014. Abandoned Suitcases Reveal Private Lives of Insane Asylum Patients. If you were committed to a psychiatric institution, unsure if you'd ever return to the life you knew before, what would you take with you?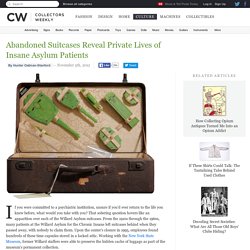 That sobering question hovers like an apparition over each of the Willard Asylum suitcases. From the 1910s through the 1960s, many patients at the Willard Asylum for the Chronic Insane left suitcases behind when they passed away, with nobody to claim them. Upon the center's closure in 1995, employees found hundreds of these time capsules stored in a locked attic. Working with the New York State Museum, former Willard staffers were able to preserve the hidden cache of luggage as part of the museum's permanent collection. "There were many patients in these asylums who were probably not unlike friends you and I have now." 10 ways journalists can use Storify. When Storify appeared on the collective journalism screen a few weeks back at TechCrunch Disrupt, it inspired a lot of oohs, ahhs and speculation as to how it would work for journalists.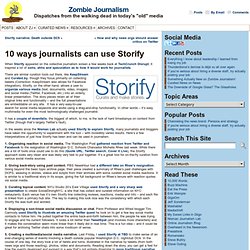 There are similar curation tools out there, like KeepStream and Curated.by, though they focus primarily on collecting tweets (Correction: KeepStream also allows for Facebook integration). Storify, on the other hand, allows a user to organize various media (text, documents, video, images) and social media (Twitter, Facebook, etc.) into an orderly, linear presentation. The story pieces retain all of their original links and functionality – and the full presentations are embeddable on any site.
It has a very easy-to-use search for social media keywords and works using a drag-and-drop functionality. What are the best content curation tools for daily use. Curate.Us - Share Screen Clips Anywhere. International Art English. How the Art World's Lingo of Exclusivity Took Root, Branched Out, And Then Rotted From Within. The hypnotizing argot of the art world is familiar to anyone who has ever tried to decipher a gallery press release or encountered a nebulous artist statement.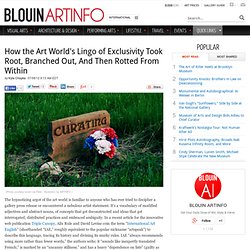 It's a vocabulary of modified adjectives and abstract nouns, of concepts that get deconstructed and ideas that get interrogated, distributed practices and embraced ambiguity. In a recent article for the innovative web publication Triple Canopy, Alix Rule and David Levine coin the term "International Art English" (shorthanded "IAE," roughly equivalent to the popular nickname "artspeak") to describe this language, tracing its history and divining its murky rules.
IAE "always recommends using more rather than fewer words," the authors write; it "sounds like inexpertly translated French;" is marked by an "uncanny stillness;" and has a heavy "dependence on lists" (guilty as charged). Is linguistic inflation insanely awesome? To continue the semantic theme of my last post, today I want to look at inflation.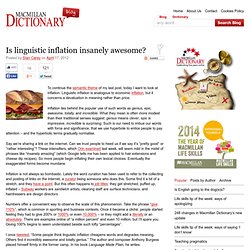 Linguistic inflation is analogous to economic inflation, but it concerns a devaluation in meaning rather than price. Inflation lies behind the popular use of such words as genius, epic, awesome, totally, and incredible. What they mean is often more modest than their traditional senses suggest: genius means clever, epic is impressive, incredible is surprising. Www.niso.org/publications/rp/framework3.pdf. A Companion to Digital Humanities. Www.ils.unc.edu/callee/p95-lee.pdf. DH Curation Guide | a community resource guide to data curation in the digital humanities | DH Curation Guide. Content Curation Tools - The Newsmaster Toolkit by Robin Good. Style Says Blogsieve RSS to HTML WebPublishing Tools Guide How To Embed and DisplayRSS on any Web Page RSS to JavaScript xFruits. Content Curation World. Change (A Quarterly Journal for Nonprofit Leaders) Technology can help you and your organization bring about the change you want to see in the world.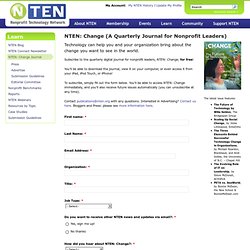 Subscribe to the quarterly digital journal for nonprofit leaders, NTEN: Change, for free! You'll be able to download the journal, view it on your computer, or even access it from your iPad, iPod Touch, or iPhone! To subscribe, simply fill out the form below. You'll be able to access NTEN: Change immediately, and you'll also receive future issues automatically (you can unsubscribe at any time). Contact publications@nten.org with any questions. The Unanticipated Benefit of Content Curation. I was honored to write a feature article in the recent issue of the NTEN journal called "The Unanticipated Benefits of Content Curation: Reducing Information Overload."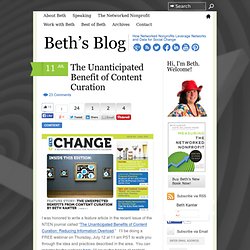 I'll be doing a FREE webinar on Thursday, July 12 at 11 am PST to walk you through the idea and practices described in the area. You can register for the webinar here. I'll cover the basics of content curation – what it is, why is it important for nonprofits, and how to use curation as part of your content strategy. Overuse of "Curating" Reaches an All-Time High, Local Blog Notices. Your day in brutal honesty: The Awl's screaming headline "You Are Not a Curator, You Are Actually Just a Filthy Blogger" pretty much says it all (it's even tagged "STOP IT").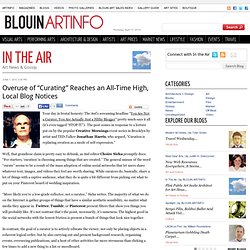 The post comes in response to a lecture put on by the popular Creative Mornings event series in Brooklyn by artist and TED-Talker Jonathan Harris, who argued, "Curation is replacing creation as a mode of self-expression." Well, that grandiose claim is pretty easy to debunk, as Awl editor Choire Sicha promptly does: "For starters, 'curation' is choosing among things that are created." The general misuse of the word "curate" seems to be a result of the mass adoption of online social networks that let users share whatever text, images, and videos they feel are worth sharing. While curators do, basically, share a lot of things with a captive audience, what they do is quite a bit different from picking out what to put on your Pinterest board of wedding inspiration. You Are Not a Curator, You Are Actually Just a Filthy Blogger. "Curation is replacing creation as a mode of self-expression.
" – Jonathan Harris @jjhnumber27 #creativemornings— Tina Roth Eisenberg (@swissmiss) June 1, 2012 As a former actual curator, of like, actual art and whatnot, I think I'm fairly well positioned to say that you folks with your blog and your Tumblr and your whatever are not actually engaged in a practice of curation. Call it what you like: aggregating? Is "Curate" The Most Abused Fashion Word of 2010? - Rants. Harold Koda runs the Costume Institute at the Met, so he's allowed to describe himself as a curator—it's his professional title. For everyone else, though, it's just a highbrow way of saying "one who picks things out," which describes all style bloggers, retail buyers, and people who get dressed in the morning. We asked a couple fashion writers if they agreed that the term was being abused. "Yes. It's the marketing buzzword of 2010," wrote Fashionista's Lauren Sherman. A throwdown about the term 'curator' « museum geek.
Lately, questions about the bastardisation of the term curator have been emerging around the blogosphere. The Hermitage Museum wrote An Open Letter to Everyone Using the Word 'Curate' Incorrectly on the Internet, and Digital Transformations recently asked whether DJs are curators, and vice versa. Their opening volley caught my attention: The word 'curator' gets used liberally these days to talk about stuff people do on the web. Top 51 Free Aggregator Apps - 1 to 50 based on popularity. Home > News > Top 49 Free Aggregator Apps 1 to 49 based on popularity Aggregator applications are online tools that pull content from numerous news sources and compile it into one easy to follow interface the user can browse. AppAppeal ranks all aggregator apps based on worldwide popularity. Pearltrees makes Web curation a joy with its 'magical' new iPad app.
Not many tech CEOs would have the guts to describe their products as "magical" and as delivering "pure happiness", but that's exactly how Pearltrees' Patrice Lamothe describes the startup's iPad app released today. You know what? He may just be right. Pearltrees is a service that takes a visual approach to Web curation. Launched late last year with its browser-based version, it allows you to create networks of 'pearls' on screen. The Jealous Curator. Collection a Day : Home. Art of the Title. Curator's ǝpoɔ. Deeply Thinking. School and Career Advice : education : Canadian Art School. Hrheingold: I illustrate how I use bookmarklets and extensions to curate w/ Diigo, Scoop.it, Pearltrees.
---