Material
eigene Veröffentlichungen
brainstorming
Assessment Center - Gruppenaufgaben
Detailsuche in: Spiele - Methoden und Spiele zur Beteiligung von Kindern und Jugendlichen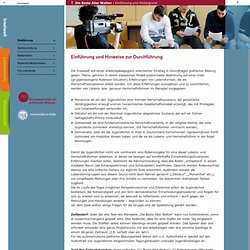 Die Inselwelt soll einen erlebnispädagogisch orientierten Einstieg in Grundfragen politischer Bildung geben. Hierzu gehören in einem klassischen Modell existenzieller Bedrohung auf einer Insel (gruppenbezogene Robinson-Situation) Erfahrungen von Lebensformen, die als Herrschaftssituationen erlebt werden. Um diese Erfahrungen zuzuspitzen und zu vereinfachen, werden vier Lebens- bzw. genauer Herrschaftsformen im Planspiel vorgegeben:
Einführung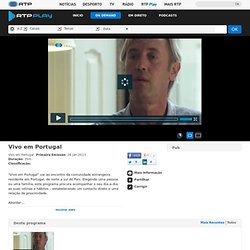 Vivo em Portugal de 26 Jan 2013 - RTP Play - RTP
Primeira Emissão: 26 Jan 2013 Duração: 35m Classificação: "Vivo em Portugal" vai ao encontro da comunidade estrangeira residente em Portugal, de norte a sul do País. Elegendo uma pessoa ou uma família, este programa procura acompanhar o seu dia-a-dia, as suas rotinas e hábitos – estabelecendo um contacto direto e uma relação de proximidade. Abordar ... várias questões, sobre a escolha do nosso país, benefícios, diferenças, a cultura portuguesa, entre muitas outras. Entrar, portanto, na vida destas pessoas que, por várias razões, elegeram Portugal para viver - fugindo ao registo comum da reportagem, bem como da entrevista, o Vivo em Portugal procura através de uma estética documental dar voz ao seu interveniente. Enquanto funciona como uma pequena ferramenta de apoio à comunidade estrangeira, procuramos conhecer Portugal e a nós próprios pelos olhos destas pessoas de outra cultura.
NADRAC
Mediation in Aktion
A
TRD - Ambiguous Information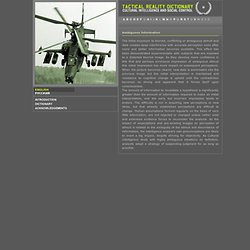 The initial exposure to blurred, conflicting or ambiguous stimuli and data creates deep interference with accurate perception even after more and better information becomes available. This effect has been demonstrated experimentally with subjects that are exposed to a distorted blurred image. As they develop more confidence in this first and perhaps erroneous impression of ambiguous stimuli this initial impression has more impact on subsequent perceptions.
picture-planet.net/d/23183-2/3d_street_art_39
urse Evaluation Methods: 8 tips + 42 methods + 12 links
Responsibility Flash Cards by Eeboo - The Organized Parent