Tools
Solve Your Calculus Problems Online. Create IVR applications in minutes :: QuickFuse. Touch Trigonometry. The 101 Most Useful Websites on the Internet. 06 Apr 2014 The 101 Most Useful Websites on the Internet is a frequently updated list of lesser-known but wonderful websites and cool web apps. couch mode print story Here are some of the most useful websites on the internet that you may now know about.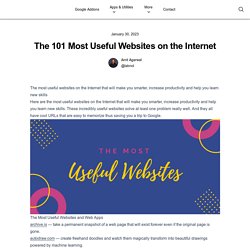 Unit Conversions. BookMooch: trade your books with other people. ManyBooks.net - Ad-free eBooks for your iPad, smartphone, or eBook reader. Free eBooks at Planet eBook - Classic Novels and Literature. Factropolis -- A Fun Fact Every Day! Wakerupper - The Web's Easiest Telephone Reminder. Musicovery. Mechanical Engineer Students Resource Site.
View from Satellite. Online Rhyming Dictionary for Poetry and Songwriting. Schedule free text message (SMS) reminders from your computer - oh, don't forget... Free online speed reading software | Spreeder.com.
---