Theatre
C.T.R. Teatro
Shakespeare and the Players
Shakespeare Library
Digital image collection: This database offers access to tens of thousands of high resolution images from the Folger Shakespeare Library, including books, theater memorabilia, manuscripts, and art. Users can show multiple images side-by-side, zoom in and out, view cataloging information when available, export thumbnails, and construct persistent URLs linking back to items or searches. Related links: Folger homepage Hamnet online catalog Digital image collection description and help Order images or request permission for commercial publication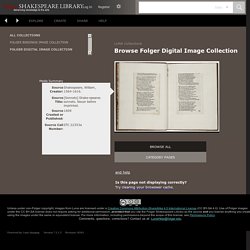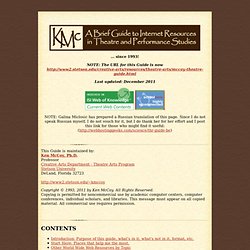 In 1993, when I first began to research theatre sites on the internet, it was a difficult and laborious project. Sites were hard to find, search engines were underdeveloped, there were very few theatre people who had taken an interest in, or even knew about the internet. Obviously, things have changed. Now the Web is easily accessible through a variety of web browsers, making specific knowledge of such utilities as telnet, ftp, and gopher (remember that one?) more or less obsolete or invisible.
Playscripts, Inc. - New Plays Now
Pioneer Drama Service--Catalog of Texts and Theatre Resources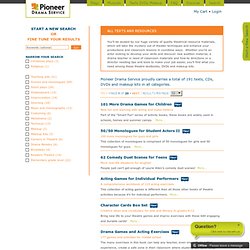 You'll be wowed by our huge variety of quality theatrical resource materials, which will take the mystery out of theater techniques and enhance your productions and classroom lessons in countless ways. Whether you're an actor looking to develop your skills and discover new audition material, a drama teacher in need of classroom materials and how-to directions or a director needing tips and tools to make your job easier, you'll find what you need among these theatre textbooks, DVDs and makeup kits. Pioneer Drama Service proudly carries a total of 189 texts, CDs, DVDs and makeup kits in all categories. 100 Duet Scenes for Teens One-minute duos for student actors These easily staged duet scenes with believable characters in a wide variety of topics are excellent for contests or simply for acting practice. More...