Tutorials/ Refashions
Corset Forum and Chat: How To make a Bra Pattern. This has been posted to the corset section for those of you who want to make a bra to match/co-ordinate with an underbust corset: Materials Bra to be copied (this needs to be a seamed cup – moulded bras are pretty much impossible for the home sewer)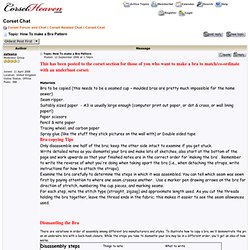 Sweatshirt liposuction. Men's button shirt -> Cute cap-sleeved top *DETAILED TUTORIAL!* [image obese] Sooo, I made my first tutorial.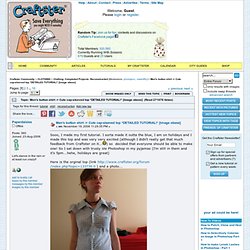 I sorta made it outta the blue, I am on holidays and I made this top and was very very excited (although I didn't really get that much feedback from Craftster on it... ) so decided that everyone should be able to make one! So I sat down with trusty ole Photoshop in my pyjamas (I'm still in them and it's 5pm...hehe, holidays are great) Here is the orginal top (link. DIY: T-shirt Surgery. Image: flickr Do you have have tonnes of old baggy t-shirts crowding out your wardrobe and not sure what to do with them?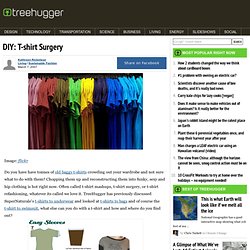 Chopping them up and reconstructing them into funky, sexy and hip clothing is hot right now. Often called t-shirt mashups, t-shirt surgery, or t-shirt refashioning, whatever its called we love it. A tablecloth reborn. This shirt began life as a beautiful linen tablecloth belonging to my mother's stepmother's mother (my step-great-grandmother?).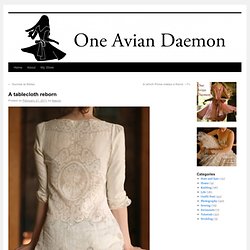 After many years the stains and tears were too large and numerous to be covered with a strategically placed platter, but it was too special to just throw out. So it became this top. I designed the top around the lace of the tablecloth, keeping as much intact as possible. There were two sections of lace without major rips or stains, just enough to make the front and back of a shirt. I used a sturdier fabric for the sleeves since they have to hold up when I move my arms and added tablecloth-edge cuffs.
Tops. How to make a draped t-shirt. This cowl neck top is quite easy to make.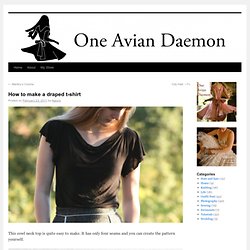 It has only four seams and you can create the pattern yourself. The cowl neck comes from making the neckline of the shirt wider at the front than the back – this extra fabric hangs down creating the drapey neckline. The folds in the sleeves come from extra fabric as well, which is added by angling the shoulder seam upward. You will need: Measuring tape ⅔ yard stretchy fabric (I used a cotton/lycra jersey) Matching thread Sewing machine Chalk (or pencil and large paper to make a pattern) Pins (optional)
The Shirt Skirt | Sew Like My Mom. July 28, 2010 I'm so excited to post about this!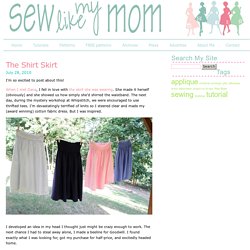 When I met Dana, I fell in love with the skirt she was wearing. She made it herself (obviously) and she showed us how simply she'd shirred the waistband. The next day, during the mystery workshop at Whipstitch, we were encouraged to use thrifted tees. I'm devastatingly terrified of knits so I steered clear and made my (award winning) cotton fabric dress. Tutorial: how to sew a simple maxi dress. Freshly Picked. DIY Shift Dress. One Pearl Button: Tutorial: Silk Shirt Refashion. Women's Clothing. Married to a bmw Free Sewing Patterns: Women's Clothing 06.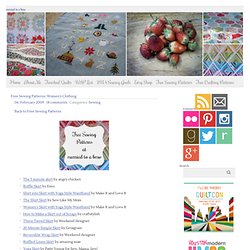 February 2009 · 18 comments · Categories: Sewing Back to Free Sewing Patterns.
---