Tutorials/ Refashions
This has been posted to the corset section for those of you who want to make a bra to match/co-ordinate with an underbust corset: Materials Bra to be copied (this needs to be a seamed cup – moulded bras are pretty much impossible for the home sewer)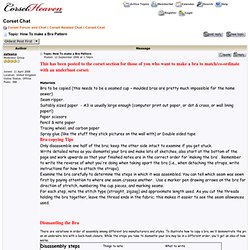 Corset Forum and Chat: How To make a Bra Pattern
Sooo, I made my first tutorial.
Men's button shirt -> Cute cap-sleeved top *DETAILED TUTORIAL!* [image obese]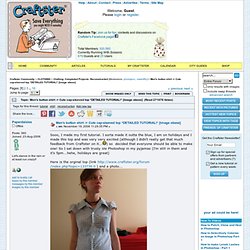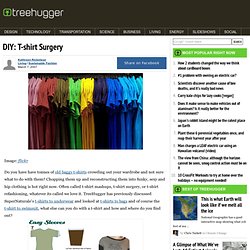 Image: flickr Do you have have tonnes of old baggy t-shirts crowding out your wardrobe and not sure what to do with them? Chopping them up and reconstructing them into funky, sexy and hip clothing is hot right now. Often called t-shirt mashups, t-shirt surgery, or t-shirt refashioning, whatever its called we love it.
A tablecloth reborn
This shirt began life as a beautiful linen tablecloth belonging to my mother's stepmother's mother (my step-great-grandmother?). After many years the stains and tears were too large and numerous to be covered with a strategically placed platter, but it was too special to just throw out.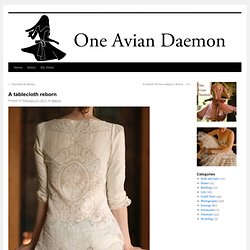 Tops
This cowl neck top is quite easy to make. It has only four seams and you can create the pattern yourself. The cowl neck comes from making the neckline of the shirt wider at the front than the back – this extra fabric hangs down creating the drapey neckline.
July 28, 2010 I'm so excited to post about this! When I met Dana , I fell in love with the skirt she was wearing . She made it herself (obviously) and she showed us how simply she'd shirred the waistband. The next day, during the mystery workshop at Whipstitch, we were encouraged to use thrifted tees. I'm devastatingly terrified of knits so I steered clear and made my (award winning) cotton fabric dress.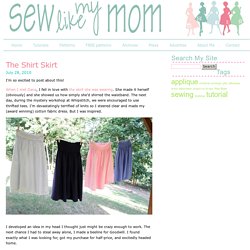 Freshly Picked Refrain Easter weekend is here, so forgive me if I get a little religious for just a minute. See, my girl Alison has one talented man on her hands. Her husband has released an album of hymn remixes that are gorgeous.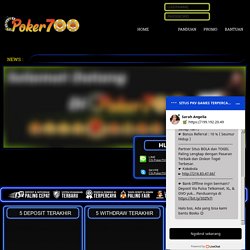 Freshly Picked
Sewing a stylish shift dress is surprisingly simple with this how-to from Summer Phoenix and Ruby Canner, owners of the Some Odd Rubies vintage store. Tools and Materials Long secondhand skirt with elastic waist Ruler Disappearing fabric marker or pencil Scissors or rotary cutter Seam ripper or small, sharp scissors Sewing machine threaded with coordinating thread 3-4 yards of coordinating ribbon Safety pin DIY Shift Dress How-To 1. Cut elastic waist from skirt.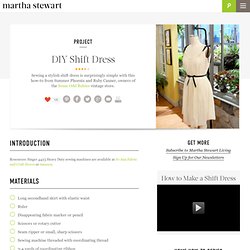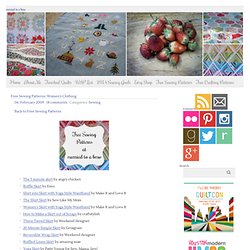 married to a bmw Free Sewing Patterns: Women's Clothing 06. February 2009 · 18 comments · Categories: Sewing Back to Free Sewing Patterns