Working during trip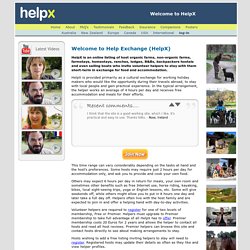 HelpX provided Jonny and myself with an experience that we will never ever forget and would never have been able to get without this amazing network. i highly recommend it and will definitely be using this again. we have made friends with some amazing people who hosted us, we love them and will always remember how much they gave us... thanks isi and wolfi xoxo - Rhiannon, Australia helpX is a great chance to get to know a new country, new people and exchange experiences - and of course to bring the idea of help in people's mind. It's simple and that's why it's so fantastic! - Lisa, Germany I think this is a really good website. We have made some great friends (hosts and other helpers) and have lifelong memories and obtained new skills!
Overseas Job Centre | Gap Year, Seasonal Work, Working Holidays & Jobs Abroad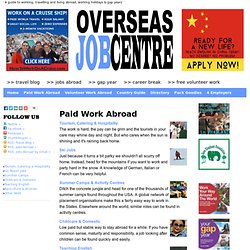 Tourism, Catering & Hospitality The work is hard, the pay can be grim and the tourists in your care may whine day and night. But who cares when the sun is shining and it's raining back home. Ski Jobs Just because it turns a bit parky we shouldn't all scurry off home. Instead, head for the mountains if you want to work and party hard in the snow. A knowledge of German, Italian or French can be very helpful. Summer Camps & Activity Centres Ditch the concrete jungle and head for one of the thousands of summer camps found throughout the USA.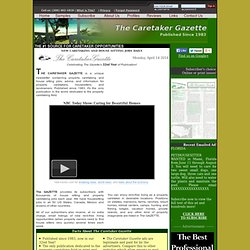 WELCOME PAGE - The Caretaker Gazette - #1 Source for Caretaker Opportunities since 1983!
For those of you who would like to save some money and lock in our current low subscription rates before our next rate increase, you can subscribe for two years for $49.95, or three years for $69.95. These subscription rates are for Caretaker.org Online subscribers. Postal subscriptions with addresses within the USA are an extra $5/year. If you have any house sitting or property caretaking questions,please email us at: caretaker@caretaker.org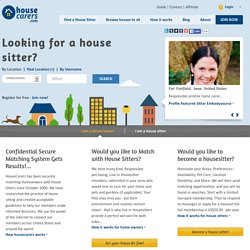 Confidential Secure Matching System Gets Results!... HouseCarers has been securely matching Homeonwers with House Sitters since October 2000. We have researched the practice of house sitting and created acceptable guidelines to help our members make informed decisions. We use the power of the internet to connect our members across Canada and around the world. How housecarers works Would you like to Match with House Sitters?
Aussie House Sitters - House sitting in Australia and New Zealand
House Sitting is a wonderful WIN-WIN transaction. It's perfect for House Owners, House Sitters - and lots of lucky pets. All of our members are on an adventure, either sitting a new house in a new location, or leaving their house behind to be somewhere else.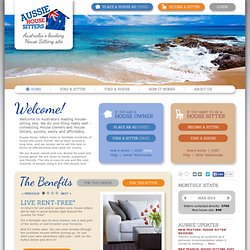 Home owners can save hundreds of dollars on cat or dog boarding. Sitters can save thousands on rent. And the pets... well, they are about as happy as they could be. Saving money is just the beginning - there are SO many other extraordinary benefits that make house sitting the ultimate WIN-WIN transaction.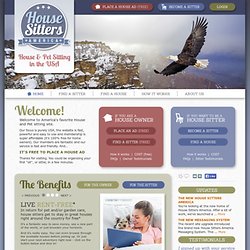 Home | House Sitters America
Create a house sitter listing Register with Trustedhousesitters.com and easily create a listing so that homeowners can contact you about fantastic house sitting opportunities - and apply for house sits that suit by date, duration and location too. First to find the latest house sits Waiting to find the dream house sit? Don't miss out! Registered members receive daily email alerts enabling them to find the latest house sitting jobs in the regions they'd like to house sit within, whether looking for house sitting in London, house sitting in Sydney, or anywhere worldwide. The world's fastest growing house sitting website Demand for house sitters worldwide is increasing. More homeowners are choosing Trustedhousesitters.com to find their ideal sitters - we have a high ratio of house sits to members, giving the best chance to find your ideal house sit whether locally or overseas.