Working during trip
Overseas Job Centre | Gap Year, Seasonal Work, Working Holidays & Jobs Abroad
Tourism, Catering & Hospitality The work is hard, the pay can be grim and the tourists in your care may whine day and night.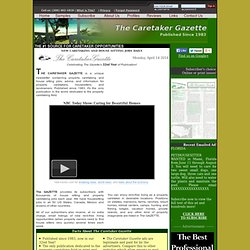 WELCOME PAGE - The Caretaker Gazette - #1 Source for Caretaker Opportunities since 1983!
CARETAKER'S ASSISTANT NEEDED for a large residential, off-the-grid, property in Kipahulu, Maui, two miles from Haleakala National Park. A paradise of rainforests, waterfalls, pools, mountains and views of the Pacific. This work-trade position is for one hardworking, no-drama individual who can contribute to the landscaping and maintenance of the property. Very physical work.
Aussie House Sitters - House sitting in Australia and New Zealand
Home | House Sitters America