Tablets and interactive software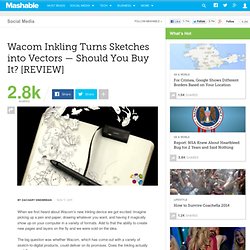 Wacom Inkling Turns Sketches into Vectors -- Should You Buy It? [Review]
When we first heard about Wacom's new Inkling device we got excited: Imagine picking up a pen and paper, drawing whatever you want, and having it magically show up on your computer in a variety of formats. Add to that the ability to create new pages and layers on the fly and we were sold on the idea. The big question was whether Wacom, which has come out with a variety of sketch-to-digital products, could deliver on its promises.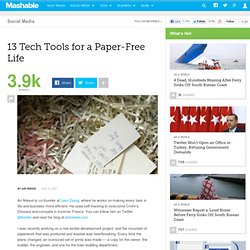 13 Tech Tools for a Paper-Free Life
Ari Meisel is co-founder at Less Doing, where he works on making every task in life and business more efficient. He used self-tracking to overcome Crohn's Disease and compete in Ironman France. You can follow him on Twitter @liontex and read his blog at arimeisel.com. I was recently working on a real estate development project, and the mountain of paperwork that was produced and wasted was heartbreaking.
The Best Sites For Cooperative Learning Ideas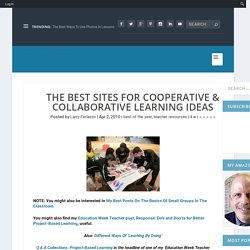 NOTE: You might also be interested in My Best Posts On The Basics Of Small Groups In The Classroom You might also find my Education Week Teacher post, Response: Do's and Don'ts for Better Project-Based Learning, useful. I'm now working on my third book, which is focused on instructional and classroom management strategies geared towards developing student autonomy and personal responsibility (as opposed to student obedience or student rebellion). Eye On Education is planning on publishing it in early 2011 — assuming I meet my deadlines I'll be writing a post soon inviting reader contributions to the book, too. One of the strategies I'll be writing about is cooperative learning.
Khan Computer Science Editor-Canvas Alpha Demo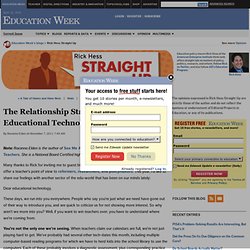 Note: Roxanna Elden is the author of See Me After Class: Advice for Teachers by Teachers. She is a National Board Certified high school teacher currently teaching in Miami. Many thanks to Rick for inviting me to guest blog this week.
The Relationship Status of Teachers and Educational Technology: It's Complicated - Rick Hess Straight Up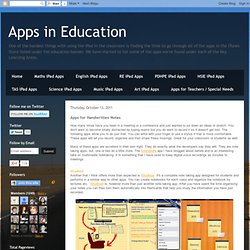 How many times have you been in a meeting or a conference and just wanted to jot down an ideas or sketch. You don't want to become totally distracted by typing reams but you do want to record it so it doesn't get lost. The following apps allow you to do just that.
Apps for Handwritten Notes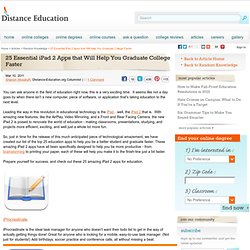 You can ask anyone in the field of education right now, this is a very exciting time. It seems like not a day goes by when there isn't a new computer, piece of software, or application that's taking education to the next level. Leading the way in this revolution in educational technology is the iPad…well, the iPad 2 that is. With amazing new features, like the AirPlay, Video Mirroring, and a Front and Rear Facing Camera, the new iPad 2 is poised to renovate the world of education - making classrooms, presentations, studying, and projects more efficient, exciting, and well just a whole lot more fun. So, just in time for the release of this much anticipated piece of technological amazement, we have created our list of the top 25 education apps to help you be a better student and graduate faster.
25 Essential iPad 2 Apps that Will Help You Graduate College Faster
MyVision Classroom Management Software
Description Turn your iPad into your personal interactive whiteboard! ShowMe allows you to record voice-over whiteboard tutorials and share them online. It's an amazingly simple app that anyone can use, no matter how young or old!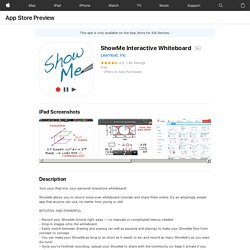 SlideShark is the award-winning app used by sales professionals and other presenters worldwide to present and share PowerPoint® from the iPad, iPhone, and iPod Touch the way they were meant to be seen—accurately and professionally every time. Learn More "SlideShark has allowed me to ... teach patients, medical students, nurses and doctors in any situation—at the bedside, in a nursing station and a classroom, without the need of a computer and projector."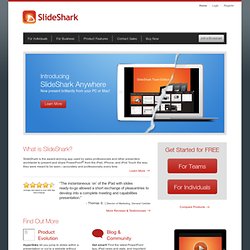 PowerPoint Presentations on the iPad
15 October 2011Last updated at 00:22 By Prasanto K Roy Technology writer Continue reading the main story The Aakash tablet's pros and cons
Does India's budget tablet computer work?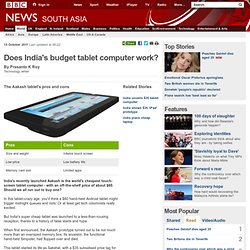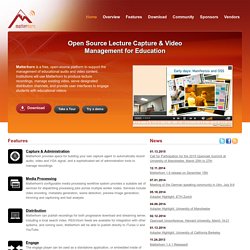 Matterhorn
Capture & Administration Matterhorn provides specs for building your own capture agent to automatically record audio, video and VGA signal, and a sophisticated set of administration tools to manage recordings. Media Processing
Hakia – Semantic Search Portal Of course I love Google and use it to search about a zillion times a day. However, many times I don't think I am getting the complete picture. I really want various content types on the same search results page. Enter Hakia.
Web 2.0
By Deepika Arora on October 14, 2011 | Sponsored Links Draw-n-Chart is a free drawing and sketching Android app that allows you to share your drawings and sketching with your friends over Wi-Fi connection. This excellent free drawing and sketching Android app supports real-time screen sharing components where you along with your friend, can share your sketches, drawings and all your casually engraved doodles. In addition, you also send and receive unlimited number of messages. With Draw-n-Chat, you can quickly collaborate with your friends, colleagues or your business partners and share your doodles or sketches on a blank screen or on a selected background image of your choice. You can choose any wallpaper or your own photo as background.
Free Drawing and Sketching Android App: Draw-n-Chat
Quickly see, and even control, a friend's computer without installing software or signing up for a service. Java-based web app Quick Screen Share is the simplest way to offer support out there, and it's free. Best of all, it works on and between Linux, Windows and Mac computers.
Quick Screen Share: Screen Sharing Without Client Software Or User Accounts [Cross-Platform]
In what has become a popular trend, students bring their own educational technology to Pennsylvania's Hanover High School From staff and wire reports Read more by staff and wire services reports After only a week, students say the program seems to be saving time and is less hassle than accessing the school's own ed-tech devices. The Hanover High School students walked into their environmental science class, sat at the round black tables, and got out their class materials. The three-ring binders, notebooks, pens, and pencils were placed out of arm's reach.
Inside a 'Bring Your Own Device' program
Does BYOD Solve or Worsen K-12 Tech Woes?
BYOD – Worst Idea of the 21st Century?
Common Sense: There's No App for That « Mathalicious
iPad beware: Android tablets gain foothold in higher education » E-Mail