Organize
Nirvana › BETA
Organizing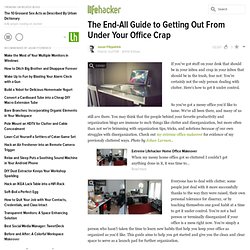 If you've got stuff on your desk that should be in your inbox and crap in your inbox that should be in the trash, fear not: You're certainly not the only person dealing with clutter. Here's how to get it under control. So you've got a messy office you'd like to tame.
The End-All Guide to Getting Out From Under Your Office Crap
organization - Lifehacker
You're great at ubiquitous capture, you process your inbox every day, but somewhere between a captured idea and the execution things get gummed up. It's time to overhaul your project list and how you interact with it. Photo a composite of images by nkzs and Martyn Rice .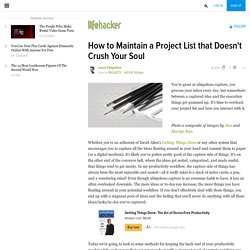 How to Maintain a Project List that Doesn't Crush Your Soul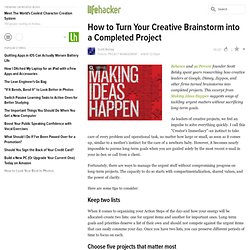 Behance and 99 Percent founder Scott Belsky spent years researching how creative leaders at Google, Disney, Zappos, and other firms turned brainstorms into completed projects. This excerpt from Making Ideas Happen suggests ways of tackling urgent matters without sacrificing long-term goals. As leaders of creative projects, we feel an impulse to solve everything quickly. I call this "Creator's Immediacy"-an instinct to take care of every problem and operational task, no matter how large or small, as soon as it comes up, similar to a mother's instinct for the care of a newborn baby. However, it becomes nearly impossible to pursue long-term goals when you are guided solely by the most recent e-mail in your in-box or call from a client.