Pulseras & Collares
DIY Chan Luu-Style Wrap Bracelet. Friendship Bracelets. Macraméd friendship bracelets were all the rage when I was growing up in the eighties.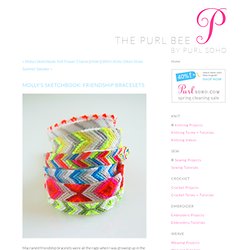 All the girls at my school would obsessively make them for one another in a dizzying variety of colors, widths, and patterns. It's amazing, thinking back, that such young girls could make such beautifully intricate accessories. I, of course, tried my hand at making them as well. DIY Fishtail Hat Band. We were instantly inspired by this gorgeous rainbow fishtail braid in Free People's September catalog and decided to recreate it, adding our own little twist: making the braid into a wearable hat accessory.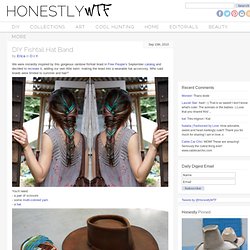 Who said braids were limited to summer and hair? Cut about 40 strands of yarn about 3 feet long, knot at one end leaving a several inches of slack, and divide into two sections. Pull 4 strands of yard from the outside of the left section and add it to the right side. DIY Woven Chain Bracelet. Chain link bracelets, with colorful threads woven through them, have been popping up here and there.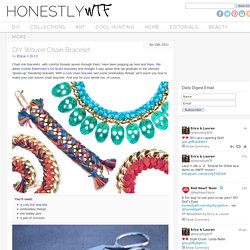 We adore Aurèlie Bidermann's Do Brazil bracelets and thought it was about time we graduate to the ultimate "grown-up" friendship bracelet. With a curb chain bracelet and some embroidery thread, we'll teach you how to make your own woven chain bracelet. And one for your bestie too, of course. You'll need:a curb link braceletembroidery threadtwo bobby pinsa pair of scissors. DIY Wrap Bracelet. You should all know by now that we are all about stacking bracelets on our wrists.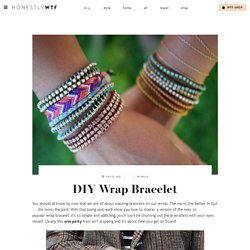 The more, the better. In fact . . . the most, the best! With that being said, we'll show you how to master a version of the ever so popular wrap bracelet. It's so simple and addicting, you'll soon be churning out these wristlets with your eyes closed. DIY Box Braid Necklace. The moment we saw Phillip Lim's Box Braid Collar Necklace, we were immediately overcome with a wave of nostalgia.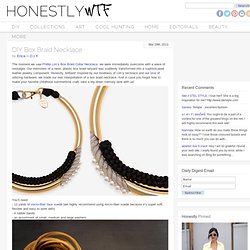 Our memories of a neon, plastic box braid lanyard was suddenly transformed into a sophisticated leather jewelry component. Honestly, brilliant! Inspired by our fondness of Lim's necklace and our love of utilizing hardware, we made our own interpretation of a box braid necklace. And in case you forgot how to make your favorite childhood summertime craft, take a trip down memory lane with us! DIY Flower Halo. You'll start by cutting 2 circles from the piece of felt at approximately 2″ in diameter.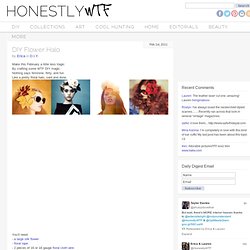 Form the wires of your halo by molding and bending each piece into a half circle. Lay the two half circles opposite of each other to create a single circle, laying it over the top of your head to check the fit. Wrap floral tape over 2 sections of overlapping wire at 11 o'clock and 3 o'clock. Trim any overlapping pieces with the wire cutters. V and Co how to: jersey knit bracelet. I don't know what it is about this time of year that makes me just want to have my bare feet in the sand, be watching the sun setting into the ocean, and breathing in the warm salty air of the beach...as i get older, more and more i find myself missing that place i used to go to almost every.single.day. as a teen.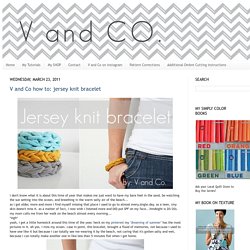 (my skin doesn't miss it. as a matter of fact, i now wish i listened more and DID put SPF on my face...hindsight is 20/20). my mom calls me from her walk on the beach almost every morning... *sigh*yeah, i get a little homesick around this time of the year. heck on my pinterest my "dreaming of summer" has the most pictures in it. ah yes. i miss my ocean. case in point. this bracelet, brought a flood of memories, not because i used to have one like it but because i can totally see me wearing it by the beach, not caring that it's gotten salty and wet, because i can totally make another one in like less than 5 minutes flat when i get home.
V and Co how to: jersey knit bracelet. DIY Pom Pom Necklace. The moment we saw designer Nicole Akong's dramatically colorful jewelry collection, Conquistadora, we were smitten.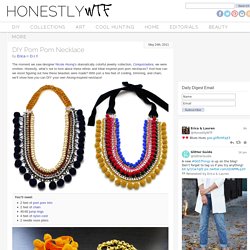 Honestly, what's not to love about these ethnic and tribal inspired pom pom necklaces? And how can we resist figuring out how these beauties were made? With just a few feet of cording, trimming, and chain, we'll show how you can DIY your own Akong-inspired necklace! You'll need:2 feet of pom pom trim2 feet of chain40-60 jump rings4 feet of nylon cord2 needle nose pliers Start by attaching the chain to the outer edge of the pom pom trim with the jump rings. DIY Friendship Necklace. As soon as Lauren and I saw this editorial in Flare Magazine, we knew we had to recreate these awesome, friendship bracelet-like necklaces.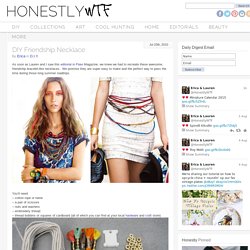 We promise they are super easy to make and the perfect way to pass the time during those long summer roadtrips. To make a 2-tone necklace, cut a long piece of rope and wrap two different colors of embroidery thread around its own bobbin. Tie a starter knot along with the two colored threads you are using, leaving at least 3 inches of slack, Tape down the slack to a flat surface or safety pin it something that will help keep it in place (feeling nostalgic yet?). Lay the color that isn't being used (shown here in purple) in your left hand, along with the rope, and hold them taut. Take the active color (shown here in red) in your right hand, pass it over the rope, loop it under and back through the opening.
DIY Friendship Bracelet. For several months now, we've been receiving emails requesting a friendship bracelet DIY.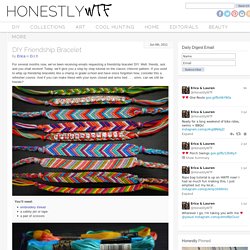 Well, friends, ask and you shall receive! Today, we'll give you a step by step tutorial on the classic chevron pattern. If you used to whip up friendship bracelets like a champ in grade school and have since forgotten how, consider this a refresher course. Make a Friendship Bracelet the Easy Way.
---