BLOGS MODA
.
Diary Of Style
Confessions of a singer
MODA, ROPA Y TENDENCIAS. DIARIO DE UNA ESTILISTA DE MODA.
VÍSTETE QUE VIENEN CURVAS
Trendy Taste
CHEAP & CHIC
La Petite Nymphéa
fun. fearless. female.
Beth Février
MAD FOR FASHION
Isa and the City
DOLORES CORTÉS BLOG
Aminta´s Fashion
1 CENICIENTA MODERNA
Aubrey and Me
bimbaylaura
You´re the one
Tul y Flores · Inspiración para tu boda
some chic stuff
Miss Cosillass: Doble uso
"Repasando" Zara People no sólo nos inspiramos o descubrimos prendas que a lo mejor se nos habían pasado por alto, si no que a veces también se sacan ideas muy buenas. Este vestido de corte peplum , tan de moda esta temporada, podría ser un básico de armario tanto para trabajar, salir o un evento más especial, en función de cómo lo complementásemos. Pero viendo las propuestas de Zara People me encontré con una alternativa que me encantó. Usarlo a modo de top , y en este caso, darle el toque desenfadado con unos jeans boyfriend. Este look me llevó a descubrir el blog de The Petit Coat , y por lo poquito que he ido viendo, me ha gustado mucho.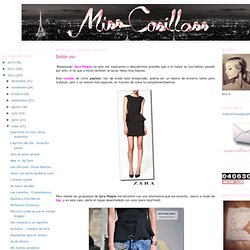 BARCELONETTE | Blog de moda de Barcelona
PATRICIA NICOLAS BLOG
baglife
D.I.Y.
Las Inquietudes de Midori
Blog de Sita Murt/ una ventana abierta al mundo que explica nuestra visión de las cosas.
elblogdepasionforfashion
MAKING ICONS
Lifestyle Amanda
ladyaddict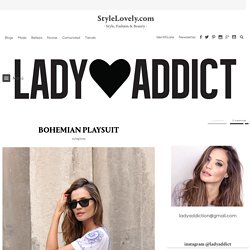 El puente me cundió mucho, ya os conté por instagram que estaba ordenando mis productos de maquillaje. Así que después de lavar neceseres y limpiarlos los fotografié para vosotras. Y estos son los que estoy utilizando ahora, os cuento: barras de labios 1. … [LEER TODO] After spending some time looking at these photos I realised that I am wearing some of my fave items. Last season's grey Zara jeans are amazing because they are very flattering and I love the ankle zips (which make them … [LEER TODO]
Dramma Queen
DOs y DONTs de las Tendencias
Chic too chic » Vestidos… (Rosa)
AH! Ropa + Complementos
Cheetah is the New Black
De Tacones y Bolsos
MAITUINS
CHEAP AND COOL
Hoje Vou Assim | Cris Guerra// O primeiro blog de looks diários do Brasil
modaebeleza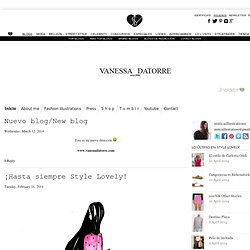 Vanessa Datorre
Después de el éxito de el post sobre, "Los secretos del vestuario de Downton Abbey" me he decicido a escribir otro sobre los secretos del vestuario de Mad Men. No es sólo la fascinación por Don Draper lo que me ciega, es en general, toda su estética. Janie Bryant , es la estilista de Mad Men . Sus principales fuentes de inspiración son actores como: Gregory Peck, Cary Grant, Audrey Hepburn, Grace Kelly o Sofía Loren , ¿a qué veis fuertemente reflejados sus estilos en los personajes? Además de ellos, dice que su propia familia es de gran ayuda a la hora de diseñar el vestuario.
Mode et Tresors
DANS LA MODE
laurel.bis
I love it!
El armario de Lu by Jane
De moda y a lo loco
NO SOY TU ESTILO
Spike Heel Addiction
another week, another resume by instagram! you can search my nick @lovelypepa Otra semana, otro resumen a través de instagram! Podéis seguirme buscando mi nick @lovelypepa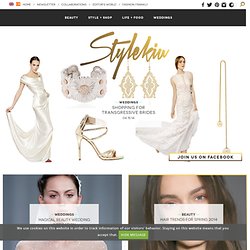 attitudeatrome | StyleLovely
Si hay un corte de vestido que me gusta ,ese es el largo,ya puede ser en su versión más lady ,casual o hippie,pero favorece y mucho.Os dejo con una selección de distintos estilos ¿con cuál os identificáis más? I love all different styles of maxi dresses. I don't mind whether they are dressy, casual or a bit hippie because the cut is usually very flattering. Here is a selection of a few different styles.
Así es la moda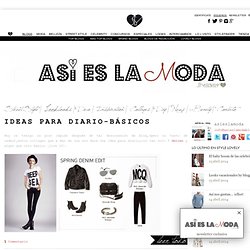 1SILLAPARAMIBOLSO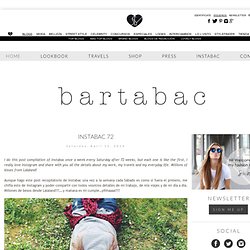 ♫ ♪ Pink – Try ♫ ♪ I have mentioned in the past that the ethnic trend is one of my faves for this spring, I love all the different pieces out there and I am so excited by the prospect of wearing shorts with amazing tribal print jackets… or this lovely handbag with a mini skirt… I am adding a little bit of ethnic print here and there to avoid it nesting in the back of wardrobe until the sun comes out. Big kiss and thank you for visiting my blog during the easter holidays! Ya os había comentado que una de las tendencias de esta primavera que más me va es la étnica, me chifla absolutamente todo y no veo el momento de ponerme shorts para combinar con maravillosas chaquetas de print tribal, o para ponerme este bolsito con una mini…por ahora me lo voy poniendo para que no se aburran esperando en el vestidor a que llegue el solete.
CON DOS...TACONES!!!
Necklace of pearls
Miss at la Playa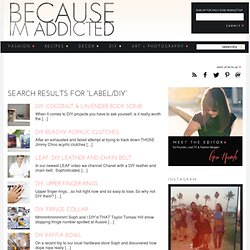 because im addicted: diy
Get your Chucks out! If you're as in love with the camo trend as much as Soph and I are then our latest DIY is for you. You don't need to be a perfect artist, just have fun and think abstract! You will need: 1 pair of cream Converse 3 fabric pens in brown, green & black (or whatever you choose) 1.
EL RINCÓN DE ANATXU
ANNAWII ♥ -
OH MY BLOG!
inlovewithfashion
SO URBAN SO CHIC: IT CHLOE BLACK SWAN
Fashion | The Glamourai
Real Trends for Real Women
Top de blogs de chicas VIP, Álbumes, telva.com
El Fondo Del Armario | El Rincón de Moda
By Dominique on abril 14, 2009 Este vestido blanco de Chloé lleva camino de convertirse en la prenda más clonada de la historia. Desde que desfilara en la colección de primavera -verano 2007, hemos visto vestidos similares en Stradivarius, Zara y seguro que alguno que nunca descubrimos.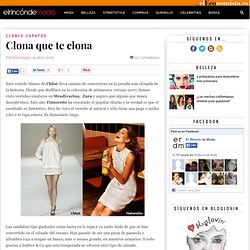 Clona que te clona | El Rincón de Moda
LINA ESCALANTE
†Paradise is in Fashion †: Fondo de armario - MUST HAVE in wardrobe
Vistiendo a Candela
Fall In Style
EL ARMARIO LLENO
Mis novias molan, están a la última y son sabias. Muchas veces, muchísimas, soy yo la que aprende de ellas y me descubren cosas nuevas y fantásticas. Es el caso de Lia Terni y sus maravillosos tocados y diademas de metal. Son orgánicos, son sencillos, son delicados… Son una auténtica joya para llevar en la cabeza.
El oro ecológico de Lia Terni « El sofá amarillo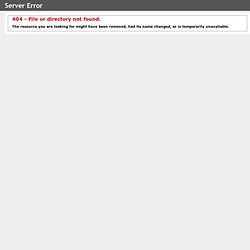 El Blog de Moda » Lectura de Domingo: Revista Vis-à-Vis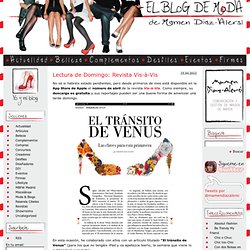 No sé si habréis estado pendientes, pero desde primeros de mes está disponible en la App Store de Apple el número de abril de la revista Vis-à-Vis . Como siempre, su descarga es gratuita y sus reportajes pueden ser una buena forma de amenizar una tarde domingo. En esta ocasión, he colaborado con ellos con un artículo titulado "El tránsito de Venus" (para los que no tengáis iPad y os apetezca leerlo, la semana que viene lo publicaré al completo).
La Parisina: La Parisienne por Inès de la Fressange
clothes pt. 1 | antigirl
Make up & Fashion: Buffalo London
El Estilario
Ruche Blog
Guest Post by Ashley Beyer, of Tinge Floral There are a number of beautiful flower combinations for corsages. Some flowers will hold up longer than others and it's important to remember that when choosing flowers for a corsage. Peach has become a pretty neutral in the wold of flowers and the Juliette Garden Rose would be a perfect compliment to a number of different dress options.