BLOGS MODA
.
Diary Of Style
Confessions of a singer
MODA, ROPA Y TENDENCIAS. DIARIO DE UNA ESTILISTA DE MODA.
VÍSTETE QUE VIENEN CURVAS
Trendy Taste
CHEAP & CHIC
La Petite Nymphéa
fun. fearless. female.
Beth Février
Hello it's Valentine
MAD FOR FASHION
Isa and the City
DOLORES CORTÉS BLOG
Aminta´s Fashion
1 CENICIENTA MODERNA
Aubrey and Me
bimbaylaura
You´re the one
Tul y Flores · Inspiración para tu boda
some chic stuff
Miss Cosillass: Doble uso
"Repasando" Zara People no sólo nos inspiramos o descubrimos prendas que a lo mejor se nos habían pasado por alto, si no que a veces también se sacan ideas muy buenas. Este vestido de corte peplum, tan de moda esta temporada, podría ser un básico de armario tanto para trabajar, salir o un evento más especial, en función de cómo lo complementásemos. Pero viendo las propuestas de Zara People me encontré con una alternativa que me encantó. Usarlo a modo de top, y en este caso, darle el toque desenfadado con unos jeans boyfriend. Este look me llevó a descubrir el blog de The Petit Coat, y por lo poquito que he ido viendo, me ha gustado mucho.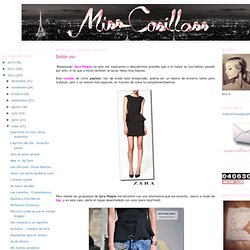 BARCELONETTE | Blog de moda de Barcelona
PATRICIA NICOLAS BLOG
baglife
Sincerely, Kinsey
D.I.Y.
A Beautiful Mess
Las Inquietudes de Midori
Blog de Sita Murt/ una ventana abierta al mundo que explica nuestra visión de las cosas.
elblogdepasionforfashion
MAKING ICONS
Lifestyle Amanda
ladyaddict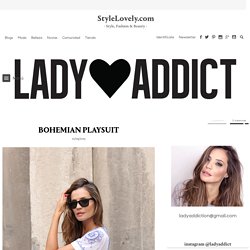 Hoy llevo un look con prendas básicas muy comunes en mi vestuario para el día a día. Las camisas de cuadros que abundan en mi armario, esta llego hace poco y ese día la utilicé a modo sobrecamisa. Debajo me puse una nueva camiseta gris básica de manga corta, tengo muchas y siempre les doy muchísimo uso. Al igual me pasa con los pantalones de pitillo negros, con o sin rotos para mi nunca son suficientes. Y por último la cazadora de cuero con cremalleras tipo perfecto, que es sin duda mi prenda comodín.
Fashionisima
Dramma Queen
DOs y DONTs de las Tendencias
Devil wears Zara
Chic too chic » Vestidos… (Rosa)
AH! Ropa + Complementos
Cheetah is the New Black
De Tacones y Bolsos
MAITUINS
CHEAP AND COOL
Hoje Vou Assim | Cris Guerra// O primeiro blog de looks diários do Brasil
modaebeleza
Vanessa Datorre
Mode et Tresors
DANS LA MODE
laurel.bis
I love it!
El armario de Lu by Jane
De moda y a lo loco
NO SOY TU ESTILO
Spike Heel Addiction
LovelyPepa
attitudeatrome | StyleLovely
La firma de Gafas de Sol Palens,nos presenta su ultima creación, Stone Edition. Están hechas de madera y ¡PIEDRA!. Hechas a mano en Barcelona. Piedra natural CE (Certificado Europeo).
Así es la moda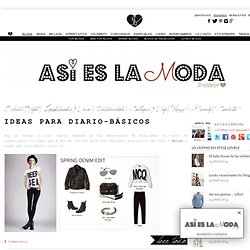 cocorosa
1SILLAPARAMIBOLSO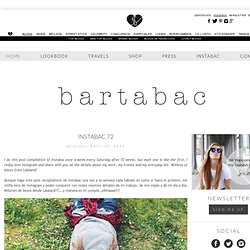 b a r t a b a c
When I started b a r t a b a c in 2009 I never imagined that all my dreams would come true. The last few years have been fantastic, full of surprises and adventures, having worked with brands that I have always admired and worked on projects that I had always dreamed off but thought were impossible; such as creating my own brand of clothing. As you know I created my beloved Á BICYCLETTE, which allows me to dream and continue to experiment with my own particular way of understanding fashion, with my fab business partner Yolanda a couple of years ago. 2013 will be an unforgettable year because it proved to be an extremely successful one for my brand, you can now find us on our shop on line www.abicyclette.es and also in over 90 different sale points, in 5 different countries, showing a 60% profit from previous figures. I cannot quite believe it, I am so proud and really wanted to share this with you *_*
CON DOS...TACONES!!!
Necklace of pearls
Miss at la Playa
because im addicted: diy
EL RINCÓN DE ANATXU
ANNAWII ♥ -
STREET STYLE FREE
OH MY BLOG!
inlovewithfashion
Fashion | The Glamourai
Real Trends for Real Women
Top de blogs de chicas VIP, Álbumes, telva.com
By Dominique on abril 14, 2009 Este vestido blanco de Chloé lleva camino de convertirse en la prenda más clonada de la historia. Desde que desfilara en la colección de primavera -verano 2007, hemos visto vestidos similares en Stradivarius, Zara y seguro que alguno que nunca descubrimos.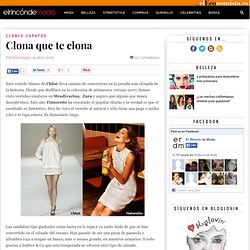 Clona que te clona | El Rincón de Moda
LINA ESCALANTE
†Paradise is in Fashion †: Fondo de armario - MUST HAVE in wardrobe
Fall In Style
EL ARMARIO LLENO
DIY
El Blog de Moda » Lectura de Domingo: Revista Vis-à-Vis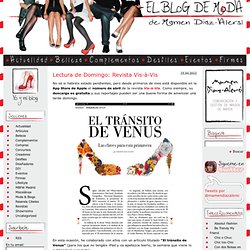 No sé si habréis estado pendientes, pero desde primeros de mes está disponible en la App Store de Apple el número de abril de la revista Vis-à-Vis. Como siempre, su descarga es gratuita y sus reportajes pueden ser una buena forma de amenizar una tarde domingo. En esta ocasión, he colaborado con ellos con un artículo titulado "El tránsito de Venus" (para los que no tengáis iPad y os apetezca leerlo, la semana que viene lo publicaré al completo).
Make up & Fashion: Buffalo London
El Estilario
Ruche Blog
Your New Year's Resolutions might include some faithful standbys like eat healthier, make it to the gym regularly, or spend more time on a hobby you love. All noble goals! But this year, why not add some style resolutions into the mix?! Since how you dress is a form of self-expression, we think style resolutions are absolutely necessary.