BLOGS MODA
. Diary Of Style. Confessions of a singer. MODA, ROPA Y TENDENCIAS. DIARIO DE UNA ESTILISTA DE MODA. VÍSTETE QUE VIENEN CURVAS. Trendy Taste. CHEAP & CHIC. La Petite Nymphéa. Fun. fearless. female. Beth Février. Hello it's Valentine. MAD FOR FASHION. Isa and the City. DOLORES CORTÉS BLOG. Aminta´s Fashion. 1 CENICIENTA MODERNA. Aubrey and Me. Bimbaylaura. You´re the one. Tul y Flores · Inspiración para tu boda. Some chic stuff. Miss Cosillass: Doble uso. "Repasando" Zara People no sólo nos inspiramos o descubrimos prendas que a lo mejor se nos habían pasado por alto, si no que a veces también se sacan ideas muy buenas.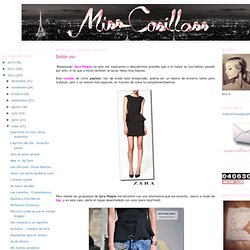 Este vestido de corte peplum, tan de moda esta temporada, podría ser un básico de armario tanto para trabajar, salir o un evento más especial, en función de cómo lo complementásemos. Pero viendo las propuestas de Zara People me encontré con una alternativa que me encantó. Usarlo a modo de top, y en este caso, darle el toque desenfadado con unos jeans boyfriend. Este look me llevó a descubrir el blog de The Petit Coat, y por lo poquito que he ido viendo, me ha gustado mucho. BARCELONETTE | Blog de moda de Barcelona. PATRICIA NICOLAS BLOG. Baglife. Sincerely, Kinsey. D.I.Y. A Beautiful Mess. Las Inquietudes de Midori. Blog de Sita Murt/ una ventana abierta al mundo que explica nuestra visión de las cosas. Elblogdepasionforfashion. MAKING ICONS. Lifestyle Amanda. Ladyaddict. Es relativamente fácil encontrar interiores interesantes en casas grandes pero hoy nos colamos en el interior de un piso cuya decoración podría resultar todo un reto.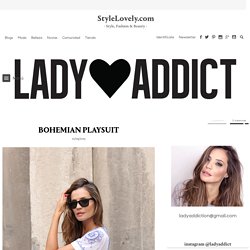 ¿Cómo hacer 34 metros cuadrados parecer lo más espacioso posible? OOs dejo con algunas imágenes de la casa a ver si cogéis alguna idea ;-) ¡Feliz domingo! It´s easy as pie to decorate nicely when you have lots of space, but today we sneak in a 34 sqm flat which manages to look really spacious, is this possible? I´ll leave you when some images of it, it may give you guys some ideas ;-) Happy Sunday! Fashionisima. Dramma Queen. DOs y DONTs de las Tendencias. Devil wears Zara. Chic too chic » Vestidos… (Rosa) AH! Ropa + Complementos. Cheetah is the New Black. De Tacones y Bolsos.
MAITUINS. CHEAP AND COOL. Hoje Vou Assim | Cris Guerra// O primeiro blog de looks diários do Brasil. Modaebeleza. Vanessa Datorre. ¡Por fin!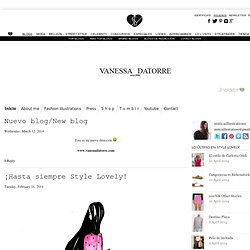 Llegó el día de presentar la nueva línea de Boüret: "Boüret Mariée" Hoy os mostramos el vídeo y las fotos de campaña con algunos de los vestidos de novia. "Ajuar de boda de las abuelas:su lencería, camisones, pañuelos y manteles nos sirvieron de inspiración para crear vestidos impregnados de romanticismo y nostalgia que nos trasladan a un ambiente bucólico y misterioso de los antiguos pazos gallegos. Todo ello, envuelto en una armoniosa conjunción de delicados tejidos como la seda, voile y tul, rematados con puntillas, jaretas, minúsculos botones forrados y encaje de Chantilly. La fluidez de las sedas hacen que su belleza visual alcance momentos de absoluta poesía en movimiento. Mode et Tresors. DANS LA MODE. I love it! El armario de Lu by Jane. De moda y a lo loco. NO SOY TU ESTILO. Spike Heel Addiction. LovelyPepa. Attitudeatrome | StyleLovely. Así es la moda. Hoy os traigo un post rápido después de tal desconexión de blog,(pero no tanto de redes),estos collages que a más de una nos dará una idea para diario,con tan solo 3 denims y algún que otro básico ¡look 10!.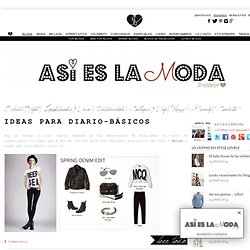 (más…) Como ya hemos comentado varias veces, IRO es otra marca francesa de las que coger inspiración para nuestros looks ¿lo hacéis?. ¡Aquí os dejo sus propuestas para esta temporada! Cocorosa. B a r t a b a c. It's Friday again and I am back home from Madrid, but soon off to California again!!!!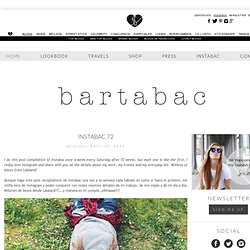 In the meantime, here is a really cool casual look, because there is nothing better than going from heels to sneakers. These Converse All Star trainers are uber cool, with the Tie Dye design making them perfect for summer. I would love to wear them with shorts and dresses but the weather prevented me from doing so and I opted for jeans, a white t-shirt and a checked jacket instead. CON DOS...TACONES!!! Necklace of pearls. Miss at la Playa. Because im addicted: diy. EL RINCÓN DE ANATXU. ANNAWII ♥ - STREET STYLE FREE. OH MY BLOG! Inlovewithfashion. Fashion. Real Trends for Real Women. Top de blogs de chicas VIP, Álbumes, telva.com. Clona que te clona | El Rincón de Moda. Por Dominique | Este vestido blanco de Chloé lleva camino de convertirse en la prenda más clonada de la historia.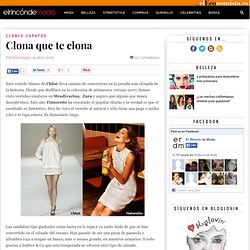 Desde que desfilara en la colección de primavera -verano 2007, hemos visto vestidos similares en Stradivarius, Zara y seguro que alguno que nunca descubrimos. LINA ESCALANTE. †Paradise is in Fashion †: Fondo de armario - MUST HAVE in wardrobe. Fall In Style. EL ARMARIO LLENO.
DIY. El Blog de Moda » Lectura de Domingo: Revista Vis-à-Vis. No sé si habréis estado pendientes, pero desde primeros de mes está disponible en la App Store de Apple el número de abril de la revista Vis-à-Vis.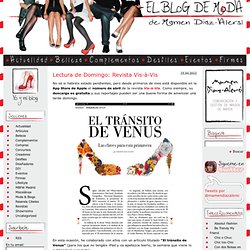 Como siempre, su descarga es gratuita y sus reportajes pueden ser una buena forma de amenizar una tarde domingo. En esta ocasión, he colaborado con ellos con un artículo titulado "El tránsito de Venus" (para los que no tengáis iPad y os apetezca leerlo, la semana que viene lo publicaré al completo). Clothes pt. 1 | antigirl. Shows / exhibits a heart condition / The Phoenicia Association, Solo Show, Feb - Apr. 2011 / Phoenix, Arizona, United States TART / UPPERCASE GALLERY, Solo Show, Jan - Feb. 2006, Calgary, Canada Phoenix Art Museum / Group Exhibition, Apr. 2010, Phoenix, Arizona, United States.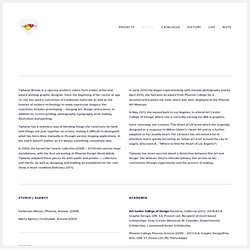 Make up & Fashion: Buffalo London. El Estilario. Ruche Blog. Welcome to the second installment of Sam & Sarah's wedding series!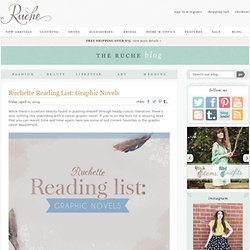 If you haven't read the first segment, make sure you hop on over to meet the gals, read their proposal stories, and get a feel for their wedding visions. This week, these lovely ladies are discussing getting started with the wedding planning process, sharing how much they've progressed and what tips they've picked up along the way. As a reminder, Sam is getting married in October, while Sarah is tying the knot in March, so their progress correlates with how much time they have left to plan.
---