General Travel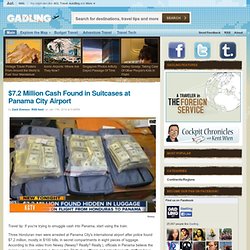 Joanne and Gary, rival travel agents compete for their industry's top honor, the Globel Prize, while trying to address their clients' impossible demands in an Off-Broadway comedy that debuts this week, "Craving for Travel." The 85-minute, two-actor, 30-character comedy was commissioned and produced by Jim Strong, president of the Dallas-based Strong Travel Services travel agency. "Travel agents are always asked to do the impossible, and this play shows how that is done, from finding the impossible rooms to making dreams come true," Strong told the "Dallas Morning News." "I decided to bring it to life on stage as a comedy in New York." From "Craving for Travel's" press release: With their reputations on the line, travel agents Joanne and Gary will tackle any request, no matter how impossible, and any client, no matter how unreasonable.
Chris Around the World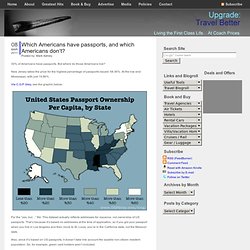 Is your car rental company taking care of manufacturer recalls in a timely manner? Odds are, they're not. For many recalls, it's not a huge deal.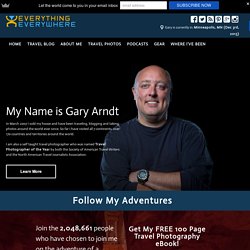 Last summer I did an island hopping tour of the Lesser Antilles in the Caribbean. I recently did two appearances on the popular Amateur Traveler podcast with my friend Chris Christensen to talk about my trip. Because there were so many islands, we split the interview into two with the first half talking about the Leeward Islands (USVI, BVI, St Martin, Saba, St Eustatius, Anguilla, St Bart's, St Kitts and Nevis, Antigua and Barbuda, and Montserrat) and the Windward Islands (Guadeloupe, Dominica, Martinique, St Lucia, Barbados, St Vincent and the Grenadines, Grenada, and Trinidad and Tobago). This was actually my 6th and 7th appearance on the show, going all the way back to 2008. I always tend to talk about tiny countries. My previous episodes include the micro-states of Europe, the Canary Islands, UNESCO World Heritage Sites, the Persian Gulf States, and Micronesia region.
People traveling to Italy from another country are usually aware they have to prepare themselves for a few differences – different language, different currency, etc. Hotel rooms, on the other hand, are cookie-cutter boxes that are the same everywhere – right? Wrong. It's not about better or worse, it's about knowing what to expect when you check into a hotel in Italy. Even if you're staying in hotels that are part of chains you recognize – Hilton, Best Western, Marriott – the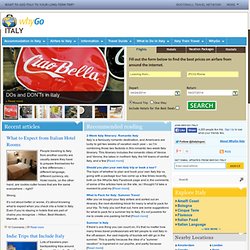 Italy Travel Guide to Hotels, Vacations, Tours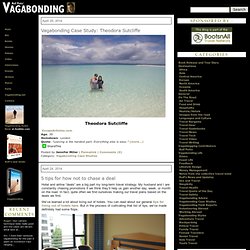 Recently, I had my first experience, and it was a humbling, scary experience that challenged my fortitude and my creativity on a new level. We could have given up, defeated, but we held strong, kept the struggle to ourselves (because my Grandma would have been worried sick!), and we pushed through it. I have only been broke once- right after my divorce. I made it out of that rut pretty quickly because A) My new business took off, and B) I had family and friends nearby who occasionally brought food or baked goods.