Ibn Arabi
Get flash to fully experience Pearltrees
The Writings of Ibn 'Arabi Ibn 'Arabi began to write books at about the age of 27, and continued to do this for the rest of his life. Based on the titles in two lists that he left, it can be said that Ibn 'Arabi wrote about 300 works. However, the works by Ibn 'Arabi which are extant today number between 75 and 100. Some of these are very long, and some are short.
Ibn Arabí: El Mago Sufí "En ocasiones, las experiencias místicas y la propia vida transcurren tan de la mano que es difícil diferenciar dónde acaba una y empieza la otra. Éste es el caso del maestro sufí del siglo XII Ibn Arabí, quien supo que había sido "elegido" mediante un sueño, mantuvo misteriosos "encuentros" con el anterior Qutb de la espiritualidad islámica, protagonizó fenómenos de bilocación y predijo antes de morir el hallazgo de un fabuloso tesoro. Un auténtico "mago" sufí cuyo legado intelectual -más de 400 obras- es aún más prodigioso que su azarosa vida.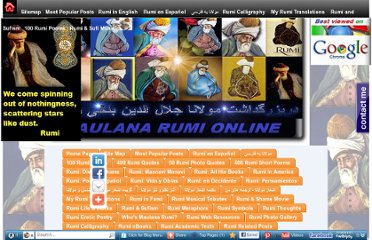 Selections from al-Futuhat al-Makkiyya by Shaykh Muhyiddin Ibn al-'Arabi Chapter 3
fusus1 The Seal of Divine Wisdom in the Word of Adam When Allah - glory be to Him!