DATA
Big Islands and Big Boats: Brazil's Costa Verde
Brazil has a love affair with prefab swimming pools. The highway from Rio to Angra dos Reis is lined with hundreds of showrooms selling different shapes of gigantic water container, ready to be laid out and filled up. Some of these are huge, and they're all stored on their side towering over the road like a giant misshapen terracotta army. Except blue.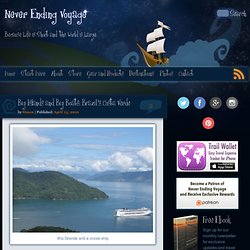 It's never been easier to compare travel and accommodation prices using sites like Hipmunk , Kayak , or Google Flights , but a little extra legwork can save hundreds on airfare, hotels, and attractions. Career traveler Matt Kepnes explains his best travel hacking tips just in time for your upcoming travels. Travel Hacking is a phrase that gets thrown around a lot these days. You see it on many travel websites that seek to explain how to become a travel ninja or ultimate traveler. Travel hackers are the people constantly chasing miles, rewards points, and elite status. They are looking for every possible way to game the system.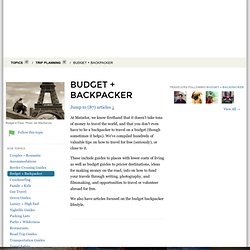 Budget + Backpacker
Jump to (79) articles ↓ At Matador, we know firsthand that it doesn't take tons of money to travel the world, and that you don't even have to be a backpacker to travel on a budget (though sometimes it helps). We've compiled hundreds of valuable tips on how to travel for free (seriously), or close to it.
50 Easy Ways to Stretch Your Travel Dollars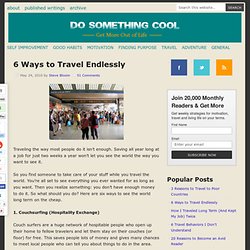 Traveling the way most people do it isn't enough. Saving all year long at a job for just two weeks a year won't let you see the world the way you want to see it. So you find someone to take care of your stuff while you travel the world.
Portfolio - Line In Web Design
Update : Visit the 2012 version of The 20 Best Travel Websites on the Internet I hope that everyone who attended my SXSW Core Conversation panel on How to Make Money Traveling Around the World enjoyed the presentation. As promised, I have a listing of my top 20 favorite travel websites (in no particular order). I'm still working on my eBook " 70 Vacations in 7 Months ". The project has consumed most of my time of late. If you attended the presentation with myself and Tynan , shoot me over an email (if you haven't already) and I'll make sure you receive a free copy upon completion