DATA
Big Islands and Big Boats: Brazil's Costa Verde. Brazil has a love affair with prefab swimming pools.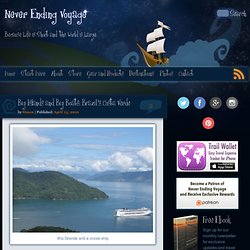 The highway from Rio to Angra dos Reis is lined with hundreds of showrooms selling different shapes of gigantic water container, ready to be laid out and filled up. Some of these are huge, and they're all stored on their side towering over the road like a giant misshapen terracotta army. Except blue. Videos. World Panoramic Photography - 360Cities. Travel News, Videos, Reviews and Gossip - Lifehacker.
Referring to this quote: "On our example, this doesn't work because we are going from the United States to England and the English Pound is worth more than the US dollar. Additionally, the Iceland Krona is not worth less than a dollar. However, if we were going the reverse way, this would work. I've used this method when flying to New Zealand since their currency is worth less than the US currency. " I want to bring up an important point about currency exchange that is often missed or glossed over: it doesn't matter one bit if the unit of the foreign currency is worth more or less than one dollar. Those examples are meaningless without knowing how much whatever it is costs in BOTH currencies and the current exchange rate between them.
Budget + Backpacker. 50 Easy Ways to Stretch Your Travel Dollars.
FDGDF
6 Ways to Travel Endlessly. Traveling the way most people do it isn't enough.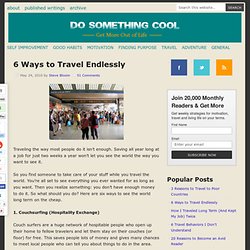 Saving all year long at a job for just two weeks a year won't let you see the world the way you want to see it. So you find someone to take care of your stuff while you travel the world. Portfolio - Line In Web Design. Spotted by Locals - Local insider tips in 41 cities in Europe. The 20 Best Travel Websites on the Internet - Golden Book Traveler. Update: Visit the 2012 version of The 20 Best Travel Websites on the Internet I hope that everyone who attended my SXSW Core Conversation panel on How to Make Money Traveling Around the World enjoyed the presentation.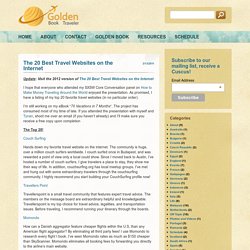 As promised, I have a listing of my top 20 favorite travel websites (in no particular order). I'm still working on my eBook "70 Vacations in 7 Months". The project has consumed most of my time of late. If you attended the presentation with myself and Tynan, shoot me over an email (if you haven't already) and I'll make sure you receive a free copy upon completion.
---