Jogos
Jogo Chinese Checkers no Jogos 360. Angry Birds Chrome. CANABALT. Pandemic 2. Akinator, the Web Genius. Tower Defense. Famous Objects from Classic Movies. Online Checkers. Play checkers online in this free internet checkers game against the computer.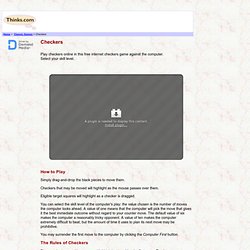 Select your skill level. How to Play. River Raid. River Raid (Activision - 1982) River Raid é um dos maiores e melhores clássicos de Atari.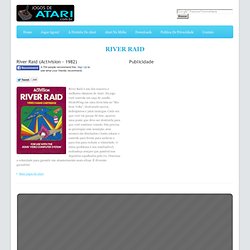 No jogo você controla um caça de assalto StratoWing em uma feroz luta no "Rio Sem Volta", destruindo navios, helicópteros e jatos inimigos. Cada vez que você vai passar de fase, aparece uma ponte que deve ser destruída para que você continue voando. Não precisa se preocupar com munição, seus mísseis são ilimitados e basta colocar o controle para frente para acelerar e para trás para reduzir a velocidade.
O único problema é seu combustível, reabasteça sempre que possível nos depósitos espalhados pelo rio. Shuffle.
---