Cinema
Cinema – Isabela Boscov – VEJA.com. Freakengine | japanese movie reviews. Movie reviews, Cult TV, Games & Comics Reviewed, Discussed & Appreciated | Den of Geek. Flickchart. Best of the Best Picture Nominees. Welcome to the 2012 edition of Best of the Best Picture Nominees, the 50 best-reviewed movies blessed with the Academy's notions of what elevates film into the realm of legend and lore.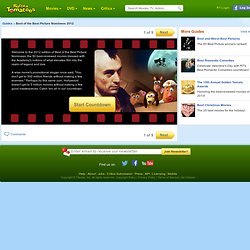 A wise movie's promotional slogan once said, "You don't get to 500 million friends without making a few enemies. " Perhaps by this same coin, Hollywood doesn't get to 5 million movies without making a few good masterpieces. Sight & Sound 2012 Polls | BFI | British Film Institute. Once a decade Sight & Sound asks critics to select the Greatest Films of All Time.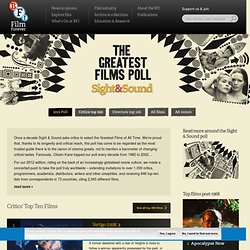 We're proud that, thanks to its longevity and critical reach, this poll has come to be regarded as the most trusted guide there is to the canon of cinema greats, not to mention a barometer of changing critical tastes. Famously, Citizen Kane topped our poll every decade from 1962 to 2002… For our 2012 edition, riding on the back of an increasingly globalised movie culture, we made a concerted push to take the poll truly worldwide – extending invitations to over 1,000 critics, programmers, academics, distributors, writers and other cinephiles, and receiving 846 top-ten lists from correspondents in 73 countries, citing 2,045 different films. read more > IMP Awards. Box Office Mojo. Rotten Tomatoes. IMDb. Alfred Hitchcock - The Master of Suspense. DigitalDreamDoor. Cool Ass Cinema. La Dolce Vita. Cine Análise. Le Mot du Cinephiliaque. Boca do Inferno. Omelete. Cinema em Cena. GeekTyrant. Hero Complex. SFX. Complex Pop Culture Movies.
Screen Rant. CinemaBlend. /Film. Io9. LA Times ENTERTAINMENT. Variety. Deadline. The Front Row. April 18, 2014 The Secrets of Godzilla My artistic career was ended by Godzilla—as a child monster-movie maniac, I stopped attending painting classes when the long-awaited film (the American version, of course, starring Raymond Burr) showed up on Saturday-morning television.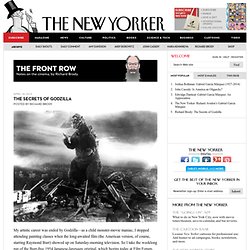 So I take the weeklong run of the Burr-free 1954 Japanese-language original, which begins today at Film Forum, personally. I missed the 2004 screenings of the restoration, so this revival is a welcome chance to catch up with it, and the experience is surprising. The first surprise is that the original version, directed by Ishiro Honda, is not a kids' movie, not a hectic teen goof, not a grindhouse shocker but a serious drama of politics, romance, and conscience (both civic and intimate).
---