Cinema
Cinema – Isabela Boscov – VEJA.com
freakengine | japanese movie reviews
Movie reviews, Cult TV, Games & Comics Reviewed, Discussed & Appreciated | Den of Geek
Flickchart
Best of the Best Picture Nominees
Welcome to the 2012 edition of Best of the Best Picture Nominees, the 50 best-reviewed movies blessed with the Academy's notions of what elevates film into the realm of legend and lore. A wise movie's promotional slogan once said, "You don't get to 500 million friends without making a few enemies." Perhaps by this same coin, Hollywood doesn't get to 5 million movies without making a few good masterpieces.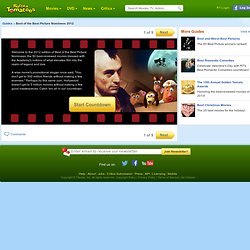 Once a decade Sight & Sound asks critics to select the Greatest Films of All Time. We're proud that, thanks to its longevity and critical reach, this poll has come to be regarded as the most trusted guide there is to the canon of cinema greats, not to mention a barometer of changing critical tastes. Famously, Citizen Kane topped our poll every decade from 1962 to 2002… For our 2012 edition, riding on the back of an increasingly globalised movie culture, we made a concerted push to take the poll truly worldwide – extending invitations to over 1,000 critics, programmers, academics, distributors, writers and other cinephiles, and receiving 846 top-ten lists from correspondents in 73 countries, citing 2,045 different films. read more >
Sight & Sound 2012 Polls | BFI | British Film Institute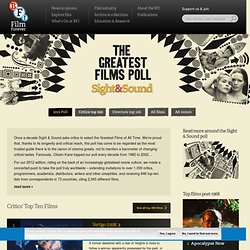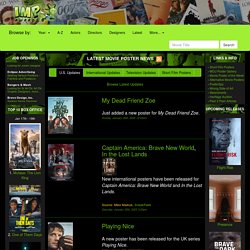 IMP Awards
Don't forget to check out the Nominees for the 2013 Internet Movie Poster Awards. Winners will be announced on Tuesday, January 21st. 300: Rise of an Empire, August: Osage County Thanks to JPosters and Cine1 for the latest poster for 300: Rise of an Empire as well as the French design for August: Osage County. Friday, January 17th, 2014 2:22pm Big Bad Wolves
Box Office Mojo
Rotten Tomatoes
IMDb
Alfred Hitchcock - The Master of Suspense
DigitalDreamDoor
Cool Ass Cinema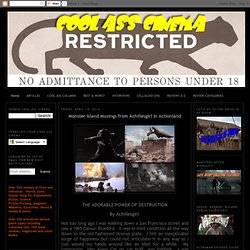 "People always want more. When we first started these swordplay films, there was no blood. People say it's not exciting enough.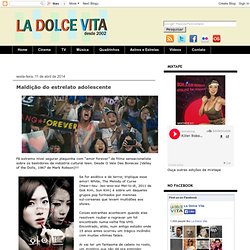 Da mais desgastante notoriedade à um ruidoso processo judicial, a artista plástica Margaret Keane saboreou toda a delícia de ser popular nos últimos 50 anos. Inclusive o quase esquecimento do seu nome. Margaret Keane começou a pintar em 1950, mas viu suas telas ficarem extremamente conhecidas após o casamento em 1955 com Walter, um corretor de imóveis que largou a carreira para se dedicar a comercializar os trabalhos da esposa.
La Dolce Vita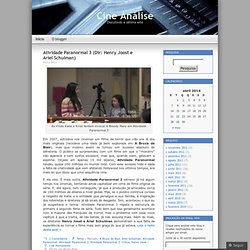 Atividade Paranormal 3 (Dir: Henry Joost e Ariel Schulman) As irmãs Katie e Kristi tentam invocar a Bloody Mary em Atividade Paranormal 3 Em 2007, estreava nos cinemas um filme de terror que não era lá dos mais originais (reciclava uma ideia já bem explorada em A Bruxa de Blair), mas que mesmo assim se tornou um sucesso absoluto de bilheteria.
Cine Análise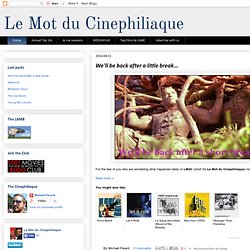 The Ice Storm (Ang Lee, 1997) The film features an ensemble cast of Kevin Kline, Joan Allen, Tobey Maguire, Christina Ricci, Elijah Wood, and Sigourney Weaver. Set during Thanksgiving 1973, The Ice Storm is about two dysfunctional New Canaan, Connecticut families who are trying to deal with tumultuous political and social changes of the early 1970s, and their escapism through alcohol, adultery, and sexual experimentation.
Le Mot du Cinephiliaque
Boca do Inferno
Omelete
Cinema em Cena
GeekTyrant
SDCC update: Comic-Con explains its one-day badge policy Comic-Con International has responded to the social media backlash against its elimination of four-day badges for the expo, which runs […] San Diego Comic-Con International: No more four-day badges for 2014 Comic-Con International is making some changes in its registration and ticketing process for its 2014 San Diego expo, including eliminating […] 'Game of Thrones' Vine videos tease first trailer that's coming Sunday HBO is drumming up the hype for the return of "Game of Thrones" with five mini-videos teasing the new season's […]
Hero Complex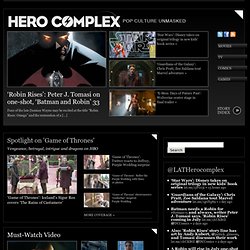 SFX
Complex Pop Culture Movies
The #1 Independent Movie & TV News Website Currently Hot Topics: Agents of S.H.I.E.L.D. | Batman vs Superman | X-Men | Best Movie Scenes of 2013 | Most Anticipated 2014 Movies | 'Gotham' TV Series Story, Characters & Villains The 'Gotham' TV series won't have Batman, but it will apparently have a young Bruce Wayne, Joker, Penguin, Riddler and other classic characters. 'Ant-Man' Story & Character Details Rumored 'Ant-Man' plot details indicate that the film may follow Edgar Wright's script treatment for another studio over a decade ago, before Marvel had the rights.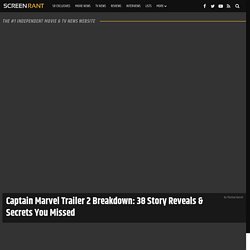 Screen Rant
CinemaBlend
The NFL is a notoriously cautious company. For years, it has not allowed official logos to be used by Hollywood; the NFL did not feel that a negative representation of football benefited the brand in any way. It makes sense, and also casts an odd light on Ivan Reitman's Draft Day, the first film ever officially licensed by the NFL.
/Film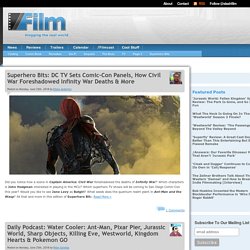 Greetings, loyal readers of me reading other people's mail! I had a weird occurrence the other day — I finally got a letter that I couldn't deliver. I have no idea how this is the first time that this has come up, it being the post-apocalypse and all, but there it was. The letter had a return address on it, so I knew immediately what I had to do — burn it. New postal rule: No backsies. You lick your stamp, you take your chances.
io9
LA Times ENTERTAINMENT
Variety
Watch: 'American Idol' Season XIII Live Q&A Fox's American Idol is hosting a preview event at 5:30 PM PT ahead of tomorrow's Season XII premiere. Watch the live-streamed Q&A with judges Jennifer Lopez, Harry Connick, Jr., Keith Urban, and host Ryan Seacrest:
Deadline
January 15, 2014 DVD of the Week: "This Is Not a Film" The Iranian director Jafar Panahi made this film in 2011, under house arrest in his Tehran apartment as he appealed both a six-year prison sentence and a twenty-year ban (still in force) on moviemaking, screenwriting, granting interviews, and travelling abroad. He packs a triple dose of irony in its title, "This Is Not a Film." The first is the plain contradiction, borrowed from Magritte; here it rings caustically as the denial of the facts before one's eyes that a repressive regime practices and demands. The second is the deceptive labelling of a film as a non-film—and Panahi's careful practices to coincide with it—to avoid violating his ban.
The Front Row