Pumps
Weir Gabbioneta. Sales, after sales, machining workshop, assembly, Test Department, Quality Control Industries Served: Production & Trasportation Refining & Petrolchemical Power Generation.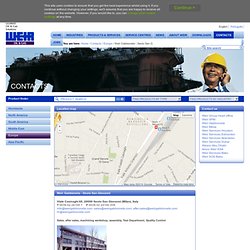 Nuovo Pignone / GE. Worthington. Flowserve. World Pumps - Senior leadership changes at Flowserve. Former Flow Solutions Group president Tom Ferguson will move to a special advisory role to Flowserve president and CEO Mark Blinn, assisting with the transition and certain strategic initiatives.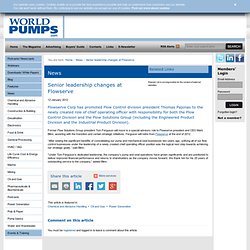 Ferguson will retire from Flowserve at the end of 2012. "After seeing the significant benefits of consolidating our pump and mechanical seal businesses two years ago, unifying all of our flow control businesses under the leadership of a newly created chief operating officer position was the logical next step towards achieving our strategic goals," said Blinn. "Under Tom Ferguson's dedicated leadership, the company's pump and seal operations have grown significantly and are positioned to deliver improved financial performance and returns to shareholders as the company moves forward. World Pumps - Agilent Technologies buys Italian vacuum pump maker PVR. Based in Valmadrera, Italy, PVR is a privately held company which began designing and manufacturing vacuum pumps in the 1960s.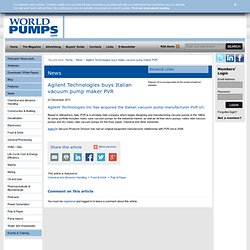 Its pump portfolio includes rotary vane vacuum pumps for the industrial market, as well as oil-free micro pumps, rotary lobe vacuum pumps and dry rotary claw vacuum pumps for the food, paper, chemical and other industries. Agilent's Vacuum Products Division has had an original equipment manufacturer relationship with PVR since 2008. World Pumps - NKE develops bearing unit for pump applications. NKE began by developing a module of twelve different sizes for fixed and non-locating bearing positions.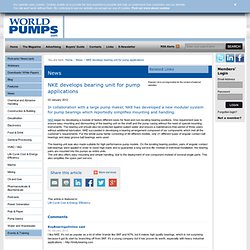 One requirement was to ensure easy mounting and dismounting of the bearing unit o­n the shaft and the pump casing without the need of special mounting instruments. The bearing unit should also be protected against splash water and ensure a maintenance-free period of three years without additional lubrication. NKE succeeded in developing a bearing arrangement composed of six components which met all the customer's requirements.
For the whole pump family consisting of 48 different models, o­nly 21 different types of angular contact ball bearings and deep groove ball bearings were used. The bearing unit was also made suitable for high performance pump models.
---